Introduction
As much as hunting can be a fun experience sometimes it can be a very uncomfortable experience especially if the hunting will take place in cold temperatures. The market will offer you both the less expensive and most expensive gears to keep warm. You have to choose according to the financial sacrifice you want to make on the hunting gears. Here are the few ways that will help you on how to stay warm while hunting so that your experience can be fun.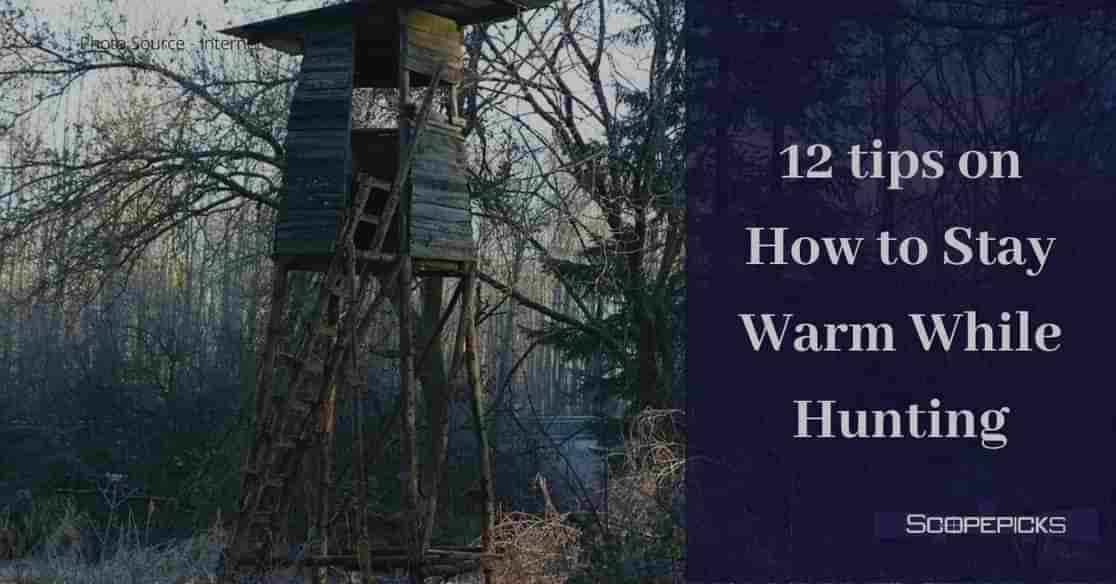 12 tips on How to Stay Warm While Hunting
Hunting can take place in different places whether snowed or forest area and this can be very hard for you to adapt that why you will be required to be prepared with warm gear whether footwear or the clothing. Here you can check out the following suggestions regarding how to stay warm while hunting.
If you want to learn about gun scope and rifle scope you can read this articles:
12 Ways to Stay Warm While Hunting in Cold Weather
Getting the best boots for hunting
Your feet play a big part in the cold you will feel in your whole body and it is very important that your feet are protected from the cold. The ways on how to keep your feet warm while hunting is very important to put into consideration during hunting time. Putting on the right boots to hunting will ensure that your feet are warm during hunting.

Boots made of rubber are the best and are able to keep you warm and are also light to ease your movement. The rubber boots are also water-resistant hence they will prevent your foot from coming in contact with the water on the surface.
By getting yourself boot blankets and a heat pack.
Hunting will really suck if you are uncomfortable especially in a cold environment and temperature. Cold feet can make your whole body ending up being cold. There are different ways that will help you on how to layer for cold weather hunting.
Before going hunting you should find boot blankets that can be placed in your hunting boots that will protect your feet from getting cold and numb. With these blankets, you should also get yourself a heat pack that you will put between your boots and the boot blanket. This will help you keep your feet warm during your hunting experience.
Buy a bunch of disposable heat packs, if possible. If the cold is unbearable or your heater is down, place heat pack around your various body parts to keep you warm. Trust me the heat packs are worth investing for.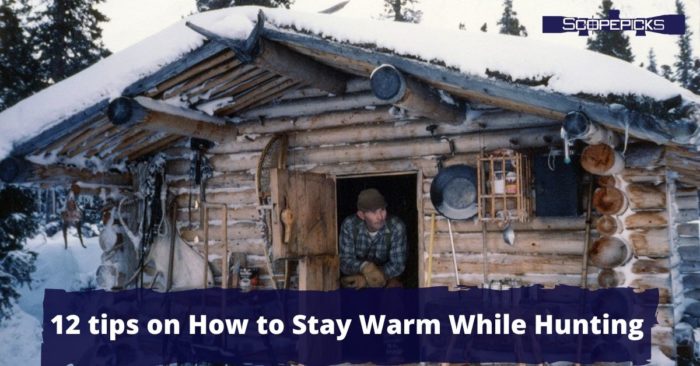 Tuck the tree stand you will be using
Tree stand can be used as a hiding point during hunting and it is important that the tree stand is warm and comfortable for you. To solve the problem of how to stay warm in a tree stand, you should ensure that the tree stand surface is placed with either a carpet or a rug. And dressing well for the tree stand is one of the tricks to stay warm in a tree stand during hunting.
Furthermore, if you cannot manage carpet or rug for the surface you can put a piece of cardboard underneath your feet. It will eventually protect your feet from getting cold.  
If you are are looking for Winter Rabbit Hunting  tips then you can check out the list in here: Hunting  tips
Ensure that your head and hands are dressed well to protect you from dangers
There are different ways to protect you and ways on how to stay warm while sitting still. You should dress well in gloves. The gloves will help your hands to be warm since if the hands get so cold they can easily be numb preventing their movement.
You should be dressed in warm socks to ensure that feet remain warm for ease in movement. There are different types of socks and you can choose wool, synthetic, poly or wool-poly/spandex blend sock from the market.
You will also need a hat to keep your head warm and also since you will be standing for long hours under a tree it is really important to have a hat on. You can buy rain/sun cap, wool cap with ear flaps, beanie, thick neck gaiter and/or any type of hood (either on the parka or core layer). Purchasing any of these head wear depends on your weather condition, your budget and your need.
Ensure that you are dressed properly for that hunting experience
Deer during in the late season can be very hard hence you should ensure that you are ready and up to the task. Staying warm during late season deer hunting should always be made a priority to ensure that your hunting experience is as much comfortable as possible.
This can be achieved by ensuring that you are dressed in layers of clothes to ensure that remains warm and don't feel cold. You can use polypropylene base layer. If you have budget problem then you can buy any poly-based thermal underwear product.
Also to protect your feet from the cold temperatures you can get yourself boot blankets and a pair of the heat pack. This will be put in the boots to prevent your foot from getting cold and end up being numb.
Take a hot beverage with you during the hunting period
Intake of beverages that are hot like coffee, tea or cocoa can be very important especially during cold weather and temperatures. You can also consume hot water. It ensures staying warm in the stand while you patiently wait for the kill. This is very important especially if you want to stay warm during late season deer hunting since you might have to wait long hours before you get the prey.
Consume Proper Food
You should avoid consuming food that rise your blood sugar because blood sugar make you cold. So consume carbohydrates and protein like beans, nuts, seeds, fruits, and vegetables. You should avoid consuming high saturated or trans fats like bread, crackers and candy.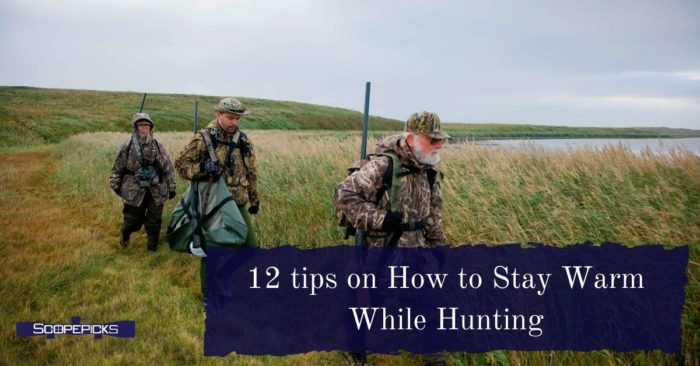 Vest
A down or PrimaLoft vest always comes in handy. A vest keeps your chest warmer. But if wearing a vest for long time makes you unbearably hot, you can always cool yourself down by unzipping your vest easily. Having a vest has another advantage, and that is, a vest keeps your chest warm while keeping your arms and elbows fully functional.
While companies like Nomad, Sitka, Browning and some more companies make wonderful down and synthetic vests with all the bells and whistles, any down vest that is not overly bulky will serve your hunting purpose in winter. In my opinion, investing in vest will always worth it.
Parka
In very cold weather hunting you should purchase thick lined pure wool parka. In rainy season you can pick waterproof/water resistant or waterfowl type Parka coats with a down or PrimaLoft liner. There are some notable clothing brands available on the market who produce good waterfowl hunting clothing . They are – Drake, Sitka, Browning, Cabela's, Columbia among others.
Hand warmer
A hand warmer pouch is worth investing in extreme cold weather. I prefer heavily insulated hand muff and I suggest you only take out hands from hand muff when badly needed. Keep couple of heat packs (chemical hand warmers) in the pouch/ muff so that the hands will be warmer quickly.
When in cold winter you stay in tree stand for long time these small or large warmers make you feel warm and comfortable. Avoid using cotton and buy lightweight gloves.
There are other type of hand warmers available in the market, they are rechargeable hand warmers. When you use this hand warmer, make sure you recharge them every time before you go for hunt.
Heated Insole
The heated insoles made by ThermaCell is a useful gazette if you are suffering cold feet. Just switch on the remote, your feet will warm instantly. They are a bit expensive, but if you can afford it then you should have one. Though you may face it challenging that you have to keep the insole charged time to time and keep the remote (which can be annoying sometime) with you.  
Fire
When it is unbearably cold and nothing is helping you to become warmer then forget about hunting and save your life. Always carry a lighter and if such life and death situation arise then lit fire with whatever you can gather from the forest. You even can go some other places for example, hiking over a hill making a fire, warming up, then climbing back into you stand.
Conclusion
Hunting can be fun if you are prepared with the right gear for keeping you warm. We have shown in this post How to Stay Warm While Hunting. Especially those who go for hunting in the late season since you need more confidence during this season. Although this season is the best since you will be able to prey more on the deer at night.