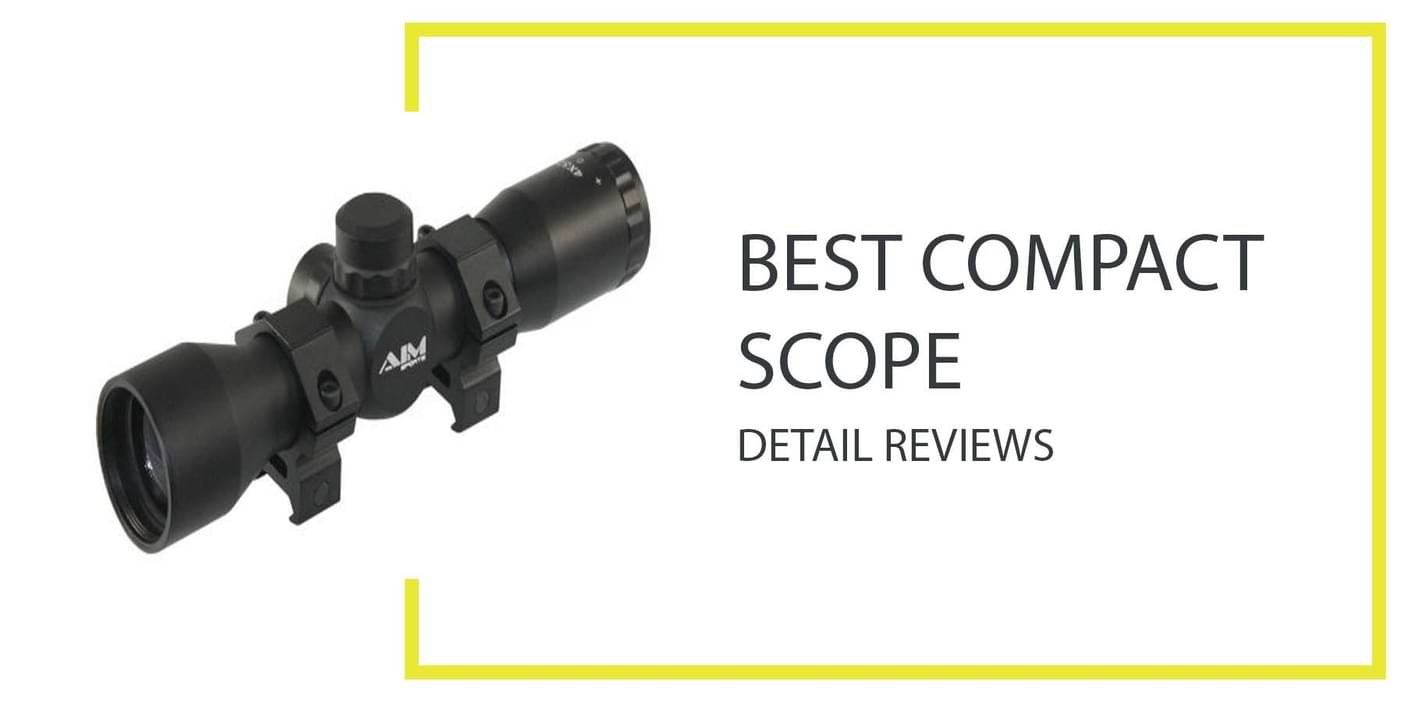 Best Compact Scope – Review & Buying Guide
Imagine you are supposed to pose a great performance, in a hotly hyped upcoming shooting competition.
All competitors are gearing up with their best rifles. Unfortunately, the one you land on the last minute ends up failing you terribly; just because your scope, can't get the best shot. This can be a bitter grain to swallow. Of course, you deserve better.
Well, for better preparedness, you need an excellent scope to try a win. More importantly, a quality one.
Compact scopes will do you the best if you are interested in light weight and compact designed scopes than the ordinary ones, a great choice for hunting escapades.
They are of high quality and have amazing features that will awe shooting fans. For tactical shooting and hard targeting, the compact scopes are your best solution. Having any of these could make you stand a chance for brilliant shots.
Best Compact Scope – Comparison table
| | | | | |
| --- | --- | --- | --- | --- |
| | Aim Sports 4X32 Compact Rangefinder Scope | | | |
| | Aim Optics 3-9X40 Compact Scope | 7.70 x 4.50 x 3.00 Inches | | |
| | UTG 3-9X32 1" Bug Buster Scope | | | |
| | SNIPER ® Compact Scope Red/Green Dot | | | |
| | Barska 4x32 IR Contour Riflescope | | | |
Recommended Best ​Compact Scope review
1. Aim Sports 4X32 Compact Rangefinder Scope
All you need to do is to ensure without restricting other firearm parts, your scope is well in interaction with mouth rings, to go for the best shot.
It's compact design; that makes it easier for you to fit it into your rifle, more especially when you need easier portability while its mounted on your rifle. This eliminates the tiring options of removing and fixing your compact scope to the rifle regularly.
We like superb magnifications is a rifle scope . The Aim Sports 4X32 Compact Rangefinder Scope provides a fixed a magnification of 4x, suitable for you to place your shot from 100 yards away, and you are good to go. Its optics are great too.
Pros
Has a 36.6' field of view for maximum clarity
Has a versatile Weaver/Picatinny 1913 rings, mountable to most rifles
Scope sights are easy to spot
It's a durable solid piece of aircraft-grade aluminum
Cons
This scope isn't good in low light environments.
The reticle is too thick to be fine-tuned at more than 100 yards away.
2. Aim Optics 3-9X40 Compact Scope
The body is fog proof and sealed with water resistance capability, so you will never have to worry rain or those wet conditions.
Compact scopes that enhance top most light illuminations are a great compliment to a precise vision. This is why its comes with a fused green multi-coated lens for that superior light spread in the scope.
Expect first class resolution and high scratch resistance, for an objective image traction and retaining of the clarity of the scope visibility. You will love the accuracy the scope brings to you.
Take a moment where you are squaring in a closer image objective, at the moment you are pulling the trigger, and the rifle body tilts to the impact, and you lose the target. This is the last thing you want after investing a lot into your new scope. It solves this problem through the shock-resistant scope design; that compliments the stability of your rifle.
Pros
Has windage and elevation easy adjustment
Superb 2.3"-2.8"eye relief for safety from heavy recoil for clear target
A magnification of 3X-9X for enhanced performance
The reticle is a P4 sniper
An excellent matte black body finish
Weight of 11.4 oz. for portability
Suitable length of 7.7-inches
Cons
Can't handle being on an AR15 in 7.62x39.
3. UTG 3-9X32 1" Bug Buster Scope
With the UTG 3-9X32 1" Bug Buster Scope, you have a red and green reticle illumination that has always found its place among shooters since back in 2004. This is one incredible scope that can see you through any lighting environment.
No better delight you can get, than the one you will feel for its reliable ability to resist shock distractions, fight foggy conditions for more clarity and maintain the illumination you much need. This is credited highly also to the 100% nitrogen seal on this scope.
You will get fast and quick access to its reticle lighting, thanks to its innovative body design. Accommodation of eye relief has been taken into consideration for any eventuality.
Not all compact scopes end up living to the expectations, when it comes to good design and detailed body build. It takes into account the turrets that factor in crisping and reliable windage and elevation flexibility to your preferences.
Pros
Lockable and re-set features for optical protection
Quality flip-up lens caps and detachable rings
Long lasting scope design for reliability
Impressive and unparalleled parallax for a fine view
Adjustable angle front objective
High performance and accuracy
Adjustable quick detach lever locks on weaver rails/ picatinny
Light weight of 1.8 pounds and scope powered vision of 2 Lithium Metal batteries
Cons
No specific knob for eye relief on this scope
4. SNIPER ® Compact Scope Red/Green Dot
Never face dissatisfaction any longer from regular brands that deliver a shoddy job. Get a great view and unlimited eye relief from this scope, thanks to dual red or green side wheel.
You can literary lock in fast your object, compounded by a maximum magnification of 1X on a 30mm Objective Diameter, to smoothly get the best view.This is achievable even if you are 100 yards away.
The scope is powered by 13 oz. Batteries, so you don't have to miss shots due to dim and unclear visible surroundings.
Paying for a durable scope is a great input. This one-piece tube build on a bold cardan platform, that will see you through to the best value the scope can offer.
Pros
1-piece tube built-in integral sunshade, for great strength
Fast objective aim and lock in
Elegant black matte body finish
Superb magnification
Cons
Doesn't have a great zoom in and zoom out ability.
5. Barska 4x32 IR Contour Riflescope
Hunters, trainers, and seasoned shooters are bound to upgrade their skills for the better, courtesy of the dedicated craftsmanship of this compact design of scope when it comes to performance.
It offers low magnification for long eye relief and close range engagement. It is one engineered extra rigid shockproof design, a requirement that is critical for stability and accurate shots execution.
As if this isn't enough, it has fully coated optics for your advanced contrast and clear view. The magnification too is a throw in of 4X, at a compact 32 mm objective.
We just don't like it when you strain too much, in the name of closing in a clear view. The comfortable 3.3-inch eye relief plus a green illuminated mil-dot reticle is all you can't wait to use for your much-needed shots.
Pros
It is waterproof and fog proof
Light in weight of 11 oz.
Compact riflescope for reliability of performance
Built-in sun-shade for light control
Cons
Eye relief is too close for ant recoil.
How to Choose the Best Compact Scope
You can never go wrong in going further, to clearly get it right, when it comes to functionality of your compact scope. However, you will be analytically correct if you also consider these when getting you compact scope.
If you are going to handle shots from a very far way target location, consider a compact scope that has a high level of magnification. Also, remember, a scope with great eye relief, will be in handy, when you want quick traction of targets in motion, even if you are on goggles.
Weather And Lighting Conditions
Optics that will let you down, during those dim or dark surroundings, should be avoided. Take into account if you are to carry out your shooting at night that means, you will need a night vision scope too, for those low light visions.
Don't forget to acquaint yourself with waterproof and fog proof optics, so you don't end having a spoilt scope when you need it most.
If you have a scope on your rifle, definitely that is an extra weight on it. Go for lees heavier options of your scope, to avoid a heavy rifle. You don't want to feel like you are looking for a shot while carrying a big rock in the process.
Choose either a suitable fixed range or variable range magnification, whatever that is preferable to you. A scope with fixed magnification and smaller lens size is great. The diameter of the lens goes in hand with diameter. Get one that compliments brilliant field view.
Remember, your field view increase, negatively affects your image clarity. And so is the high magnification. The eye relief is a distance of how far the scope is held from your eye to see a great field view clearly. If you are in glasses, consider a longer field view.
Clarity and brightness should be what your optics provides you, for a vibrant view. Check keenly on those that would never disappoint.
Absolute great care and maintenance of your compact scope will be dependent on how long you will last with it. You cannot afford to lose your time any longer for missed shots when most of these first rated compact scopes will fix that for you. Enjoy their performance and have a great accuracy too.