Introduction
Binoculars are great for viewing wildlife and birds, among other uses. If you are buying your first binocular, you need to know some essential tips on how to choose binoculars. They are available in various types to suit the needs of different users.
So, what kind of binoculars are best for beginners? We prepared this guide to help you understand important things to consider when buying a binocular. Read to find out what to look for when buying binoculars.
If you want to learn about gun scope and rifle scope you can read this articles:
How to Choose Binoculars
Don't pick any binocular you come across simply because it looks good. You need to know what features comprise a great quality binocular. Go through this binocular buying guide for more tips.
Pick A Magnification
This will depend on what you intend to do with the binoculars. The numbers represent the magnification. For instance, 8x means that the image under observation is to a closer view eight times as it would appear when viewed with the naked eye.
A magnification of eight times (8x) makes the image smaller but wide and may thus be suitable for viewing birds. 10x magnification has a narrow field of view, and the image may come out darker than it is in its actual state. This is because it has low light. The best binocular magnification will range from 7x to 12x, and the images viewed are clear.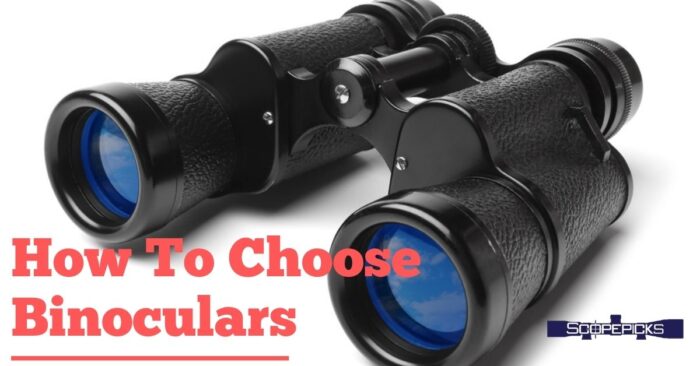 Test Many Models
Before you decide on the type of binoculars to purchase, you test a number of them better. This is because they all show images differently. This is so because you will look at the images differently from the other person in the way you focus, how you hold your binoculars, and even how you carry them along when not in use.
Again birders do not have the same shape as the face or exact size of hands. Therefore, the images will be different from one person to another.
If you want to learn about binocular as essential gear and gift ideas you can read these articles:
Look for True Color
When buying binoculars, it is essential to look out for the quality of the image they give. The clarity and brightness of the image indicate the quality. The images shown by the binoculars should be sharp, bright, and of a true color. They should not be underrated, nor should they be exaggerated.
Eye Relief
The binocular eyecups should be adjustable to accommodate glass wearers or even provide shade to you on sunny days during fieldwork. The image should be seen clearly, whether you are using glasses or not.
If you are using glasses, ensure that you look for a high point for the best results. It would help if you did not strain to see the image since it will be magnified to the right size. The high-ended binoculars do not cause eye strain on the user, and you can stretch them depending on how you want them.
Check for Warranty and Additional Features
How to choose binoculars in terms of checking manufacturer's warranty or guarantee? Well it is a very important factor when you think of buying a binocular .
The manufacturer will always give a warranty for every binocular they make. This gives you trust in their product because you can take it back to them after sale if it does not function as expected. Depending on the manufacturer, the duration of the warranty varies. It is essential to check the warranty before purchase to be safe in case the binoculars get dysfunctional.
Some additional features given by the manufacturer on sale may include the user manual. In case you are a beginner and have little or no knowledge of how to use, you will learn from the manual. The manual provides details on how to store and maintain it for durability.
Have A Targeted Price Range
What is the difference between cheap and expensive binoculars? In as much as you want a pocket-friendly binocular, make sure it is worth the money. High price ranges will offer durable compact binoculars that will give you service for a long time. Cheap binoculars are made using cheap materials and more automation to take the price low.
On the other hand, expensive binoculars are made using good long-lasting quality material. The weather can affect cheap binoculars if the materials are neither waterproof nor fog-proof, unlike the expensive binoculars.
Low priced binoculars have lenses and prisms of low quality, thus giving less sharp, less bright, and dull colors while expensive binoculars have high-quality images that are sharp, bright, and of an actual color.
Consider The Field of View
The field of view is also known as the exit pupil. The diameter of your binocular will determine the exit pupil of your binocular. The larger the diameter the larger the field of view and vice versa.
This means that if the diameter is large, you will view a larger area than you would if the area is small. To calculate the exit pupil, divide the lens diameter by the magnification of the binocular.
Check On the Weight
Since you will be mostly using your binoculars outdoors, it is then advisable for you to consider its weight. You don't need a heavy binocular since it will make it hard for you to move from place to place. Choose the one that is of reasonable weight, not too light and not too heavy.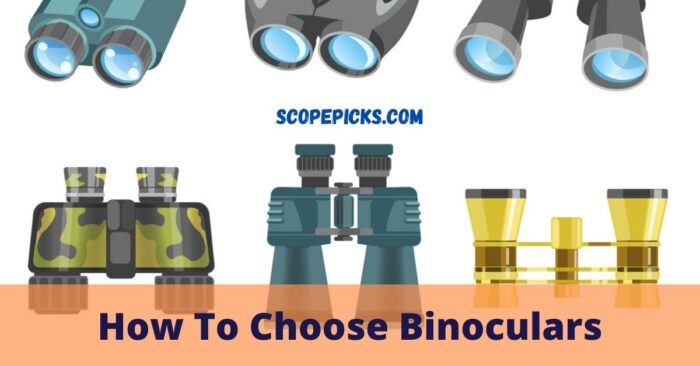 Check On the Lens Quality and Coating
The objective lens is opposite the eyepiece. Its function is to ensure that only enough light enters the binoculars when viewing an object or image. You get this by reducing the amount of light that is reflected and only allowing enough light.
Before purchase, you need to be sure that the lens is of good quality. Good quality lens gives the image a better contrast and less divergent.
Final Words
I hope you know how to choose binoculars by now . For best results, when using a binocular, be it sky gazing, bird viewing, and hiking, you need to have a good binocular with the best qualities. This will help you see images clearly without straining your eyes. Choose one with the right magnification range since the images are viewed from a distance and need accuracy. Your binocular should be of a reasonable weight. This will make your movement from place to place easily as you carry on with your activities. In case you have an issue with the use, check on the user manual and instructions from the manufacturer.