Introduction
A scope Mount is what will join your scope together with the gun. There are various mounts that you will find on the market. With the various options, it will be very difficult for you to get the best which can guarantee the best zero. The UTG scope mount is among the best mount that she will find 1-inch scopes.Several things can't guarantee you accuracy and precision on all your targets. Good ammo, a gun in good condition and most importantly the best scope. But, that is not all. You will also need a good scope mount which can securely hold your scope in place to get the best zero.With scope mount, you will be able to hit all your targets when using a .22 caliber air gun. Below we shall discuss more the UTG mount and what it has to offer.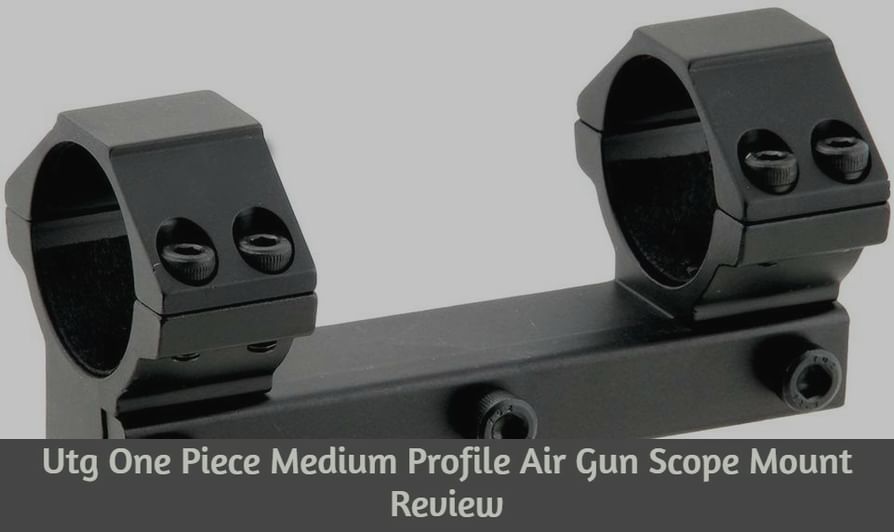 UTG one piece scope mount
Leapers UTG is among the best manufacturers of rifle products including scope mounts. They make some of the best rimfire scope rings of high-quality that will allow you to mount your scope well to get shots on all your targets. This mount has several features that we shall discuss below.
Durable construction
This medium profile Mount is designed from an aircraft-grade aluminum alloy as well as an anodized black matte finish. This material is the best description of durability if you are looking for a scope mount that will last you for ages.
Moreover, you don't have to worry about the constant use, the rings will maintain their original build throughout every shot taken. With such durability, you can even get to pass it on to the next generation.
You can learn about some more rifle scopes in here:  Best 4x Scope
Versatility
The UTG one piece scope mount comes with a reversible locking plate. This plate allows the Rings to fit various air guns. You can use it on air guns with a .22 rails caliber. That's not all you can also use it on other air guns within the same range. The mount flexible and versatile making it a great choice for your needs.
Tight Fit
This UTG Mount model comes included with four hex screws for each ring. These locking hex screws are designed to secure the mount tightly on your gun. No matter how rough or constantly you use your gun, the mount will not get loose in any way. The only way to loosen it is if you loosen the screws when you want to remove the mount and Scope for safekeeping or inspection.
Stop pin
In addition to the Tight Fit, you will love the stop pin on this mount. The stop pin will ensure that you will not get any lose rings that can otherwise cause the scope to move around while in use. This feature will give you a solid application by keeping your scope held in place without any sudden movement. This makes it stand out among the best scope Rings you'll get on the market today.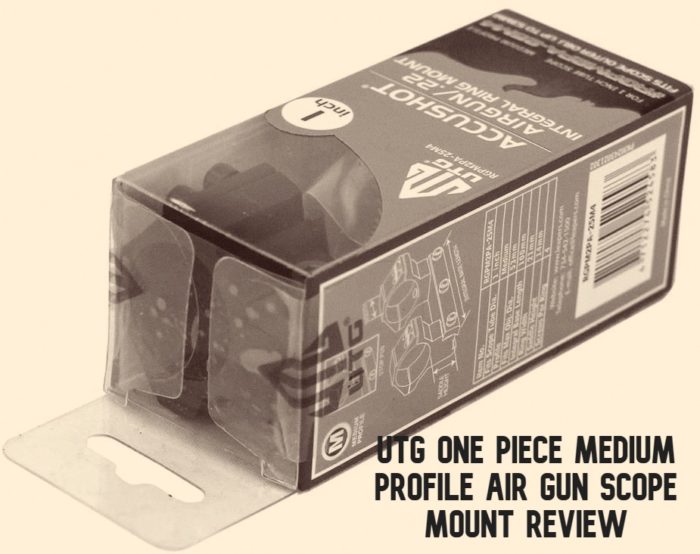 Value for money
This UTG Mount comes at an affordable price compared to other one-piece scope mounts on the market. It is durable and an ideal match for 1-inch scopes. Has everything you will need in a mount for a .22 caliber air gun all at a reasonable price. This mount can fit scopes of up to 45 mm obj thanks to its full length of 100 mm. It is also quite easy to install and set up will require a few minutes.
Pros
The mount is designed with aircraft aluminum alloy with an anodized black matte finish.
This scope mount is also easy to install for anyone without any experience.
It is versatile as it features are reversible locking plate which allows fitting on some caliber air guns.
UTG scope mount features a stop pin that keeps the scope in place for a more solid application.
Each ring features four hex screws to fit the mount tightly on your air gun.
It is an affordable mount.
Cons
You have to be careful with the cup as it may end up affecting the turret which can mess up your zero.
The scope Mount is made in China which may be a great turn off for most but it is of good quality.
<<<——————— CHECK LATEST PRICE———————->>>
Frequently Asked Questions
Q: How high should my scope Rings be?
A: Since there are different kinds of scopes they come with different recommended mounting heights. If you need precision then you will have to mount the scope at lower heights meaning your mount should be as low as possible. As a rule, the scope is supposed to be mounted at the lowest height but it shouldn't touch the barrel or other parts of your gun.
Q: What size rings are needed for a 56 mm scope?
A: Resize ring should be with an outside diameter of about 65 mm or so. This way your 56mm scope will be able to fit perfectly.
Q: What is the difference between Picatinny rails and Weaver rails?
A: The Picatinny and weaver rails are similar in design but they have a few differences in terms of Interchange. The Picatinny mounting rails, for example, have slots of .206″ width with their center-to-center group width of .394″. The Weaver rails, on the other hand, have got .180″ width slots and most importantly they lack a consistent spacing in between their grooves.
Conclusion
As we conclude our UTG scope Mount review you have indeed come across a wide range of options as you searched for the best scope ring for your air gun. Luckily, you managed to get here and now have a much clearer option that will match your air gun. The UTG one-piece scope mount is among the best scope rings you'll get on the shop today. This medium profile scope mount is lightweight, durable and it will keep your scope family in one place regardless of how rough you handle your air gun. If you choose to invest in this mount, rest assured that it will be worth every penny you spend. With all its unique features and benefits at a reasonable price, there is nothing more you can ask for in a scope mount in each category. We hope this article titled "UTG One Piece Medium Profile Air Gun Scope Mount Review" was helpful and wish you the best on your hunting trips.