Introduction
The Simmons 8-point 3-9 x 50 mm rifle scope is a sturdy item that gives 3-9 magnification that makes it be the most outstanding rifle scope. It weighs only 13.2 ounces hence very fit for your hunting activities and many other activities. It is a professionally designed rifle scope with a 50 mm objectives. Simmons rifle scope has a lot of outstanding features that give a sturdy reason why it should be your only choice. To discover more, let be discuss its outstanding features.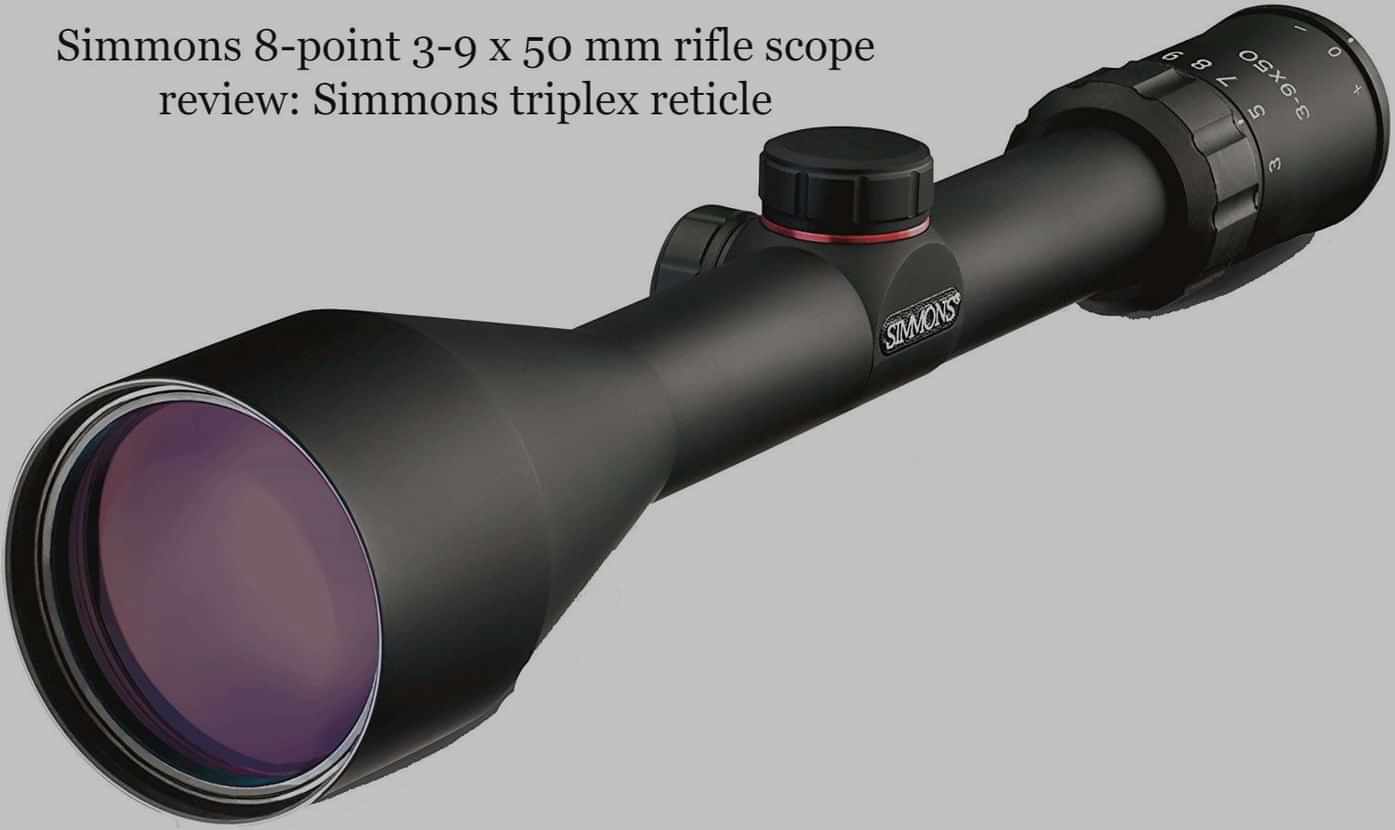 Outstanding features
Unbeatable magnification
When dealing with the magnification of the rifle scope, then the Simmons scope out stands out. The zooming varies from 3x to 9x. The resolution ensures you have a sharp and clear image of your target. Besides you can focus up to 80 yards which is a long-distance and with clear and crisp images.
You can check more .22 Mag Scope like the Simmons 8-point 3-9 x 50 mm rifle scope in here – Best .22 Mag Scope – Guide & Review
High quality
In this Simmons 8 point scope review, you will come into a strong conclusion that it is a very high-quality rifle scope. The eye relief is quite comfortable. It has all qualities to withstand harsh conditions and still last long. The shook proof keeps you safe from any strain. It has a very professional design that gives sharp images.
The triplex reticle has excellent construction with a simple crosshair without any compensation markers. The optics are perfectly-coated for a higher contrast image. Moreover, the making material is waterproof and recoil proof.
Widefield view
This Simmons scope has a wide field of view. It gives precise images from a distance of 31.4 feet to 100 yards. It is a convenient distance in hunting activities. Additionally, with that huge distance, it gives a magnification of up to 9x. It uses quick target acquisition which will help you locate the target easily.
It is very simple to use
If you thought that all rifle scopes are hard to use, then you are in for a rude shock. This Simmons 8 scope review has found out that this rifle scope has a modern design that does not require tiresome training to use. It will only need some simple practices, and you will be good. It comes with a manual that will locate its parts.
Also, the settings of this rifle scope are effortless. Its part is smoothly adjustable, and most of the times, you will not require any adjustment because it has very high precision.  The diameter of the objective lens is fantastic to facilitate all your expectations.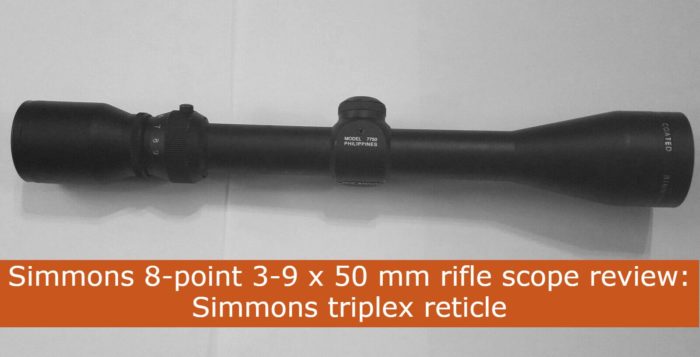 Cost-effective
Most of the people when they think of purchasing a rifle scope they imagine huge prices, which is not true. To prove you wrong the Simmons 8 3-9 x 50 mm rifle scope is very affordable. With a good budget, it will not inconvenience your expenditures. Besides the dollars you will need for this rifle scope are equitable to its quality. 
The installation of this tool will not require extra tools, saving you from extra cost. Simmons rifle scope is simple to maintain with unique features to keep it long hence no need of repurchasing in the nearby future. It out stands most of the rifle scope in the market with almost the same features with its affordable cost.
Powerful Light Capability
Hunting is fun and amazing, especially when it involves your family and friends. However, it is equally frustrating, especially when missing a rifle scope. And not just a rifle scope but a high-quality rifle scope. When it comes to every rifle scope, the light quality is an important feature.
In regards to that, the Simmons 8 point 3 9×50 Rifle scope feature a 50 mm lens that delivers an amazing magnification to help you view your target. Unlike other products, this brand allows you to view details under trees. Not to mention small details that may look impossible to see. Take your hunting to the next level with this product.
You can buy Simmons 8-point 3-9 x 50 mm (Simmons triplex reticle) rifle scope from Amazon.
<<<——————— CHECK LATEST PRICE———————->>>
Fast and easy Installation Mechanism
Installing rifle scopes can be challenging if you are a newbie. And this tends to be uncomfortable for a huge amount of people. Nevertheless, that is not the case for this product. The primary step is to purchase a set of one inches rings and easily most on the rifle scope. Since the lens measures up to 50 mm, look for high rings that will maintain a front optical that is barrel-clear. Other than that, the process is fast and easy to complete. It takes seconds to put it up.
Pros
It has a hydro shield coated lens hence produces sharp and very clear images
Elevation adjustment ensures it is firm at zero thus withstanding harsh conditions
The triplex reticle helps to focus on the target quickly therefore very convenient and reliable
Focusing on the target is very simple with the eyepiece that has a quick acquisition
This rifle scope is very durable and versatile
It has a waterproof and shockproof design for your safety
Simmons rifle scope is super light for hunting activities
The lens covers a range of 100 yards
The matte finish keeps it super clean and is very affordable
The Simmons rifle scope is perfectly-designed. Hence, it has a lot of pros than the cons. Additionally, its cons are well manageable
Cons
The original package does not come with a case for storage
The mounting rings are bought separately, but the cost is low
Some people believe that the eye relief is short though it is still convenient
Final thought
In this Simmons 8-point 3-9 x 50 mm scope review, it is evident that you can enhance your shooting and hunting abilities. With high accuracy if you make it your choice. It has unique features that will optimally ensure that you get all your targets. Simmons scope is easy to mount; hence saving you from any trouble. If you are looking for an affordable scope, then this one. Simmons 8 point scope review, fully shows that it is a high-quality rifle scope and on top of that, it is very affordable and will suitably fit in your budget. From many customers reviews, its quality matches its price; hence you will get what you pay for saving you from losses.
[thrive_link color='green' link='https://amzn.to/33tLhCg' rel="nofollow" target='_self' size='medium' align='aligncenter']Check Latest Price[/thrive_link]