Introduction
The following Nerf Modulus Regulator Review is to help the Nerf warriors to learn about their gun and can win in the battlefield. As there is a say "Choose your weapon wisely". I must add "Know your weapon thoroughly".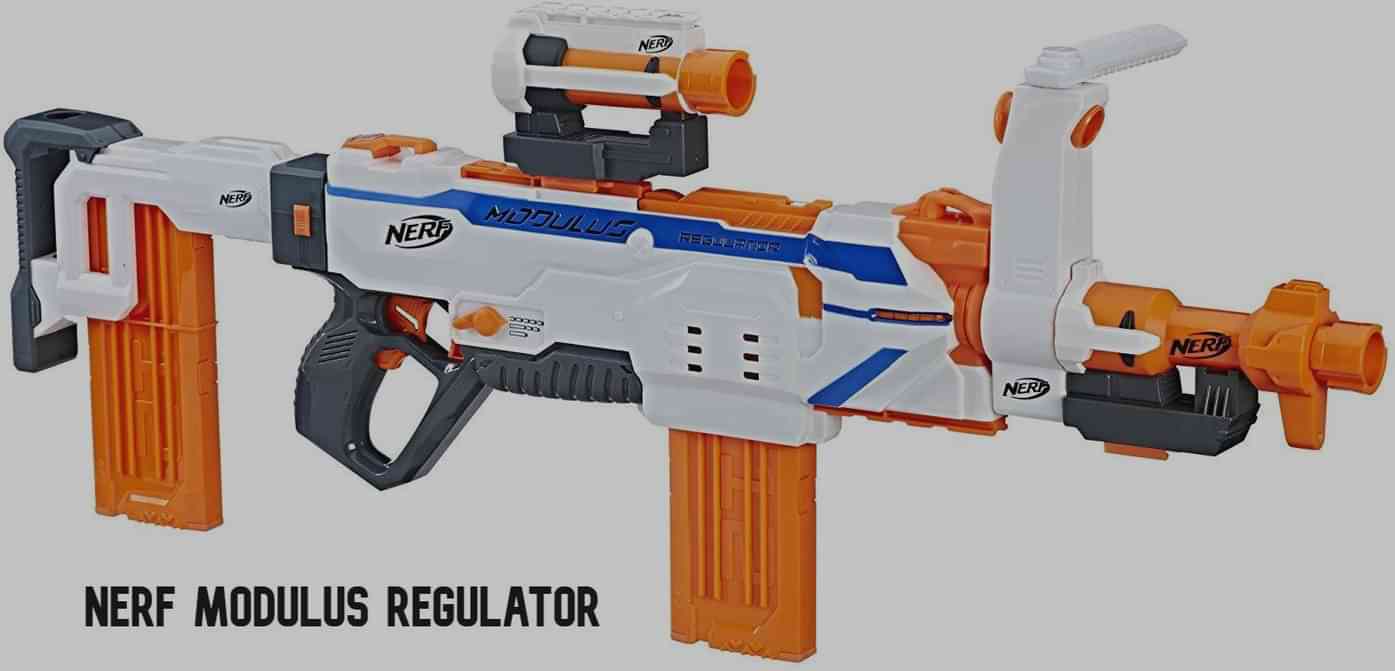 Read the review and learn from it.
Product: Nerf Modulus Regulator
Ammo Capacity: 12 Nerf Darts
Age restrictions: 8+
Best Attack Position: Mid Range
Overall Score: 4 Out Of 5
Nerf Modulus Regulator Release Date: August, 2017
About this Nerf Modulus Regulator
One of the wonderful features the Nerf Modulus Series has, it supports any Nerf Modulus attachment that means in any Nerf gun, you can add that firing feature. So if you own this Gun, then you are ready to face any Nerf battle situations since you have got a good amount of ammunition at your disposal.       
The Nerf Modulus Regulators has an interesting feature, namely Switch Fire Technology, that allows you to select from 3 different firing methods.
You can check more Nerf Gun in here – Best Nerf Sniper Rifle Scopes – A Complete Guide
The methods are:
Firstly, single fire mode, as it is self- explanatory, permits 1 Nerf dart per firing shot.
Secondly, burst – fire mode that permits 3 Nerf darts per firing shot.
Thirdly, continuous – fire (automatic) mode that permits to release all Nerf darts in one firing shot.
 The advantage of this firing mode is that you can flick the button smoothly and instantly so that the gun user pulls the trigger in according with his action plan.
Nerf Modulus Regulator Darts
There are other salient features like this Nerf gun customized with Storage stock and two (2) barrel-scopes features that comprise two 12-dart clips and 24 Modulus Elite darts.
Though there are 24 darts available in your complete Nerf Modulus Regulators package, there is always a chance of development or modification. You can do modify your Nerf gun by purchasing compatible add-on (accessories and upgrade gadgets).
The Nerf gun is very stylish in look and built strong in nature. You need to buy 4C batteries while you buy the Gun since, without the batteries, the Gun is useless. This Gun assemble is simple. But you need to be careful about aligning the barrels properly. It is important how you load the darts in the barrel because improper loading can jam your Gun in a crucial moment. You also need to set the three (3) settings of the dart firing method properly; otherwise, the darts may become stuck while you shoot.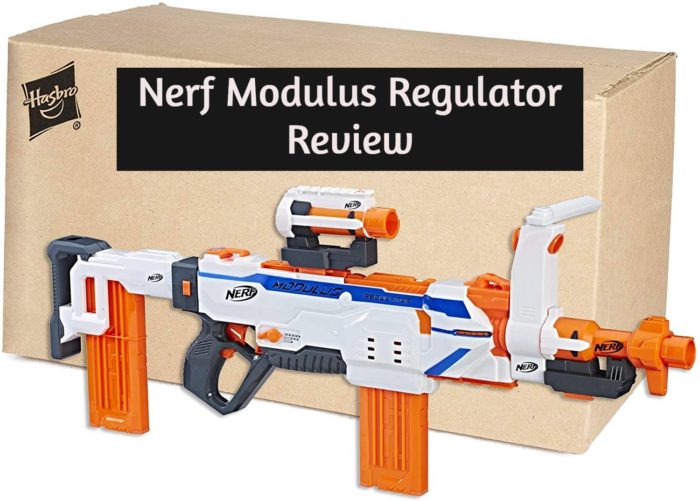 Key Features
If you buy this Nerf Modulus Regulators you will have :
One regulator.
Decent amount of ammunition (24 darts can be shoot at a time) that means less hassle in reloading your Gun.
Storage stock loaded with 12 Nerf darts.
Two (2) barrel stock allows two attachments along with available extra hands that allow attachments of additional Nerf guns with those 2 barrel stock attachments.
For a smooth shooting experience, a comfortable grip on the handle.
 
You can buy Nerf Modulus Regulator from Amazon.
<<<——————— CHECK LATEST PRICE———————->>>
Steps to Start your Nerf Gun Battle
Unwrap Nerf Modulus Regulator Battery Cover.
Load 4C Batteries and shut down battery cover.
Choose your firing modes (Depends on your battle plan).
Insert Nerf Darts into the Attachment.
Load the attachment (Magazine) into the Nerf Regulator.
Select your fire mode (single fire, burst-fire and continuous fire) based on the Nerf war game scenario.
Aim for the target and FIRE!!!
Reload and fire again until the target is down.
Swap batteries when gun power is down.
 
Pros vs Cons
Pros
Select Fire Options or Switch Fire Technology that allows the modes of firing.
Comfortable gun handle to balance your gunshots.
Two (2) separate barrel Attachments/ scopes and storage stock.
Stylish and lucrative Design (Kids and Adult both will love it in the Nerf battle).
Cons
The Nerf gun blinks when reload requires. (may compromise you hideout).
The Gun barrel makes a loud noise while shooting.
4 C Batteries need, and it is not generally included in the package.
The Nerf Modulus Regulator is the first of its kind, which allows three types of firing, namely single fire, burst fire, continuous (auto) fire.  The Nerf regulator consists of 2 kinds of attachments. One is storage stock, loaded with 12 Nerf darts. The other one is a 2-barrel stock that permits two attachments at a time, so double firing darts at all together. Another notable feature is that the barrel stocks have extended hands to grasp additional barrel attachments and added Nerf guns.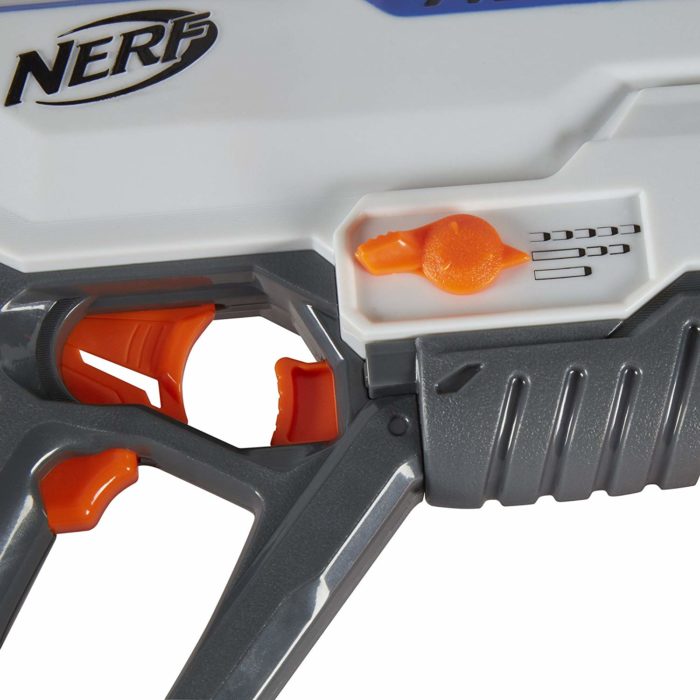 Anatomy of Important features
This Nerf gun has another gripping feature, and that is, in the battle zone, when you will run out of darts, the gun regulator will blink for 15 seconds and remind you to reload the barrel with darts. But it has drawbacks too. In Nerf war, when you are in a stealth position, your enemy may know your position instantly, and you may lose the war.  
The requirement of 4C batteries to shoot by the Gun is also disadvantageous since it is mandatory for this Gun, and when you install the Nerf Modulus Regulators battery in the Gun, the Gun will be heavy. In a long-lasting Nerf battle using a little bit heavy Gun can be harmful.   
The Nerf Modulus Regulators blaster is age-restricted, someone more than eight(8) years old generally can use that Gun. But in my opinion, anyone, especially kids below eight years old, with Nerf gun safety and accuracy training, can team up with other elders and enjoy the Nerf war.
If you are a Nerf lover, then you must have this Regulator gun. Its select fire mode is the first of its kind, which allows three types of firing, and you as a Nerf fan, must have one of this Gun in the first place before someone has it. So you can rule on the battlefield. It is obvious there will be more Switch Fire Technology guns will be in the market, but why wait, right?
How you can utilize this Nerf Gun
In the Nerf war, when you have this Nerf Regulator gun, because of auto fire technology, you can unleash all the darts altogether and defeat your enemy in sudden full attack. But if you are in stealth mode, you can also do surgical strike and Gun down your enemy one by one by selecting single fire and burst fire mode.
When you finally about to purchase this Gun for you or somebody else, your subconscious mind may ask you whether this gun worth the asking price? Why not!!
In my opinion, your enemy on the battlefield will envy your Gun, don't you think?
If you think of your plan of attack and want to be in full control of your firing Nerf darts, then Nerf Regulator should be your war gadget.  
The barrel attachment looks like an artificial scope. The plastic quality of the Gun is outstanding as they generally do. I must add that the storage stock is upgraded in compare to previous Modulus stock. The stock may feel relatively short for the adults, but I must say it is also well built. The Magazines are also well made in compare to other blasters since they may need only one minute to adjust hand placement.  
Conclusion
Three firing modes can hit different distances while shooting darts. For example, in a single fire, burst fire mode, the darts can hit the distance of 100 feet, but while you shoot in auto mode, the dart can hit comparatively a low distance. The Nerf Regulator is a wonderful addition in the Nerf series, and its key feature is Switch Fire Technology. I highly recommend this Nerf Modulus Regulator blaster to all Nerf lovers.