Introduction
Shooting toy guns have become more common to people of all ages who want to acquire or improve their shooting skills. With the new technology and more advancement, there are different types of shooting guns with different features and performance. The Nerf Zombie Strike Longshot CS-12 Blaster is one of the great toys that allow kids and adults to acquire skills to shoot zombies with a lot of precision. In this article, I will give you a review, its design and ergonomics use, value and well as its fun.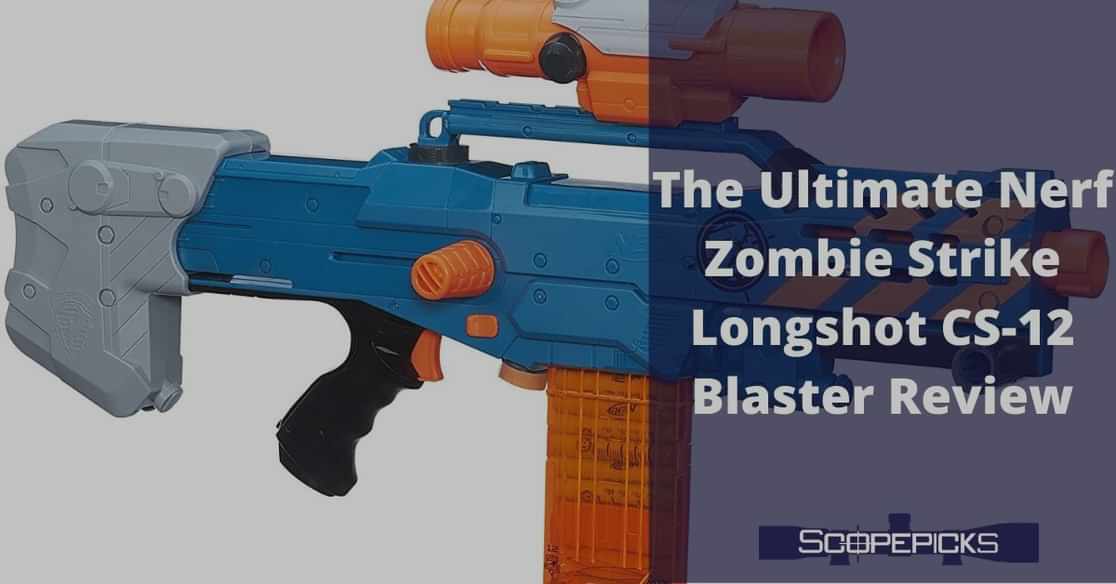 If you are looking for other sniper rifle for fun then you can check out the list in here: Best Nerf Sniper
NERF Zombie Strike Longshot CS-12 Blaster Review
The Nerf Zombie Strike Longshot CS-12 Blaster is a gun that gets rid of zombies, was released in fall 2014 by Hasbro Company. This Nerf has a length of 3 feet and weighs 2.5 pounds. It has a bolt-action priming mechanism for performance and a solitary fire mode. It has a magazine that can hold up to 12 Nerf darts with ease of loading.
There is an elongated stock that permits more precise gunshots and perfect aiming. While hitting the zombies, stay at a distance to lower the probability of being infected.
In case the Longshot CS-12 Blaster fails, you use the secondary Nerf gun, the Nerf Zombie Strike ZED Squad CS-12 Blaster that gets rid of all zombies. The ZED CS-12 shoots only one Nerf Dart at an instance.
The ZED Clear Shot has a scope that aids in hitting your targeted object more precisely. You can use the Longshot CS-12 together with the ZED Squad Clear Shot to help you do away with all the zombies. The Nerf Zombie Strike CS-12 Blaster was constructed for the Zombie Strike Task Force to bring to an end the increase of zombie outbreak.
Nerf Zombie Strike ZED Squad Longshot CS-12 Blaster is made for kids aged 8 years and above. However, it can be used by younger kids as long as you teach them properly how to operate. You can get the Nerf Zombie Strike Longshot mod that includes original attachments in the Longshot's retail box.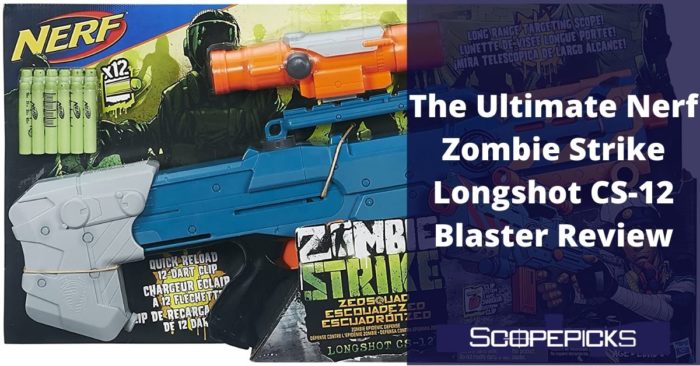 Ergonomics Design
The Nerf Zombie Strike Longshot CS -12 Blaster has a tough and antagonistic impression. The multiple colors make it look beautiful and exciting. It has a blue body color with orange stripes at the muzzle region and salmon-orange handle.  
It is a lightweight device making it ideal for kids as it is built with quality plastics. These plastics tend to break over time making the device wear out easily than the recent and upgraded gun toys.
The Nerf Longshot CS-12 Blaster has a modular design that allows you to remove or add the pieces you want. It comprises of a rail system where you can connect a scope to improve the accuracy of the firing gun. The built-in stock is collapsible as it has two sections making it smaller in size which is ideal for kids to carry along.
Ease of Use
To use the Nerf Zombie Strike Zed Squad Longshot CS-12 Blaster follow the below steps:
Connect the scope attachment. This is an option.
Put the 12 Nerf darts into the internal magazine
Place in the magazine inside the CS-12 Blaster
Pull the side handle to prime
Target at the object you want to shoot
Draw the trigger to let off one Nerf dart at your targeted object
Repeat the procedure until all the darts are finished.
You can check out the latest price of this awesome Nerf Zombie Strike Longshot CS -12 Blaster in here.
This device uses the bolt action priming performance with a single fire mode. The gun's firing ranges are 40 feet that is 12.2 meters in a flat angle. You are recommended to fire a maximum of one dart per second. Use the Quick Reload Clip for faster loading.
Some Precautionary Measures
Sometimes the Nerf Zombie Strike ZED Squad Longshot CS-12 Blaster may jam. This is for the reason that the magazine does not fill the darts quickly and may crush the dart causing the jam. To avoid this problem, always make sure that the magazine's spring is in good condition so it can load the darts correctly.
In some cases, the targeting scope may go down due to inappropriate placement. It was made to eradicate zombies to prevent zombie invasion. In case you want to be part of the forces in future, get the CS-12 Blaster to grow your shooting skills.
It is good for kids to put on a face mask and defensive eyeglasses to avoid any harm. The gun should be cleaned using a dump cloth or else a Q-tip regularly to prevent jamming. Moving parts should be greased to stop the friction from damaging the Nerf's barrel resulting in less durability.
In case of any dent, apply a coat of varnish or a clear sealant for your gun to maintain its beauty. Also, avoid keeping your Nerf gun in direct sunlight.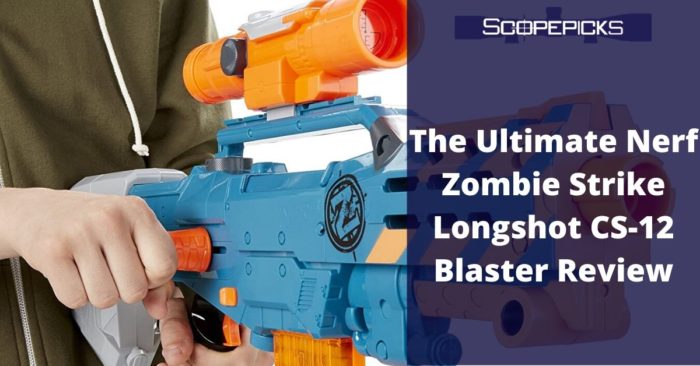 Reliable Performance
The fact that is simple to fill the magazine and it can hold an ammo capacity of 12 Nerf Darts is a good example of a unique gun. The Nerf Darts are made to last for a long period hence are reliable. The jamming issue is less compared to other guns.
With this, you will be able to shoot more zombies accurately. The availability of a scope for long-range targeting allows you to eliminate targets from a long distance.
Nerf guns are one of the most excellent entertainment devices that can be used by persons of all ages. Keep in mind that the many you are the greater the fun. Engage your entire family or friends to participate in the Nerf Gun zombie shooting to get the utmost fun.  
It is easy to hold and gives a nostalgic feeling to practice the whole day. As the spring unfolds, you can meet yourself staring rather than focusing on the target.
Conclusion
Although the NERF Zombie Strike Longshot CS-12 is a traditional toy gun, it has unique features that make it unforgettable. The fact that you will be able to attach a scope for more accuracy speaks it all.  I highly recommend the toy to every person who wants to enjoy the fun of shooting zombies.