Introduction
Hunting in a low light environment is not easy, but with a night vision hunting scope, your chances of success are greatly improved. What is a night vision hunting scopes? It is simply a light amplification device used to view objects in low light situations. It may not provide the vision in a dark place. Instead, it needs just a little light to make your objects clearer through the lenses.The good news is that when you use good quality night vision scope, the light does not have to be in the visible spectrum for you to see clearly in a low light situation.Just a little IR that may be invisible to the naked eye is enough to light up the darkness for you through most night vision hunting scopes. This is the ultimate night vision hunting scopes review. Check out this night hunting scopes review for more information.
How Night Time Hunting Scopes Work
The night hunting scope intensifies available light to allow your eyes to see more detail. The devices have a thermal unit that detects the temperature difference between the object and its surrounding area.
The illuminating product needs just a little light, whether it gets it from the moon, stars or artificial sources. It amplifies the little light with a special tube so that it allows your eyes to see in the dark through it.
Some high-quality units use infrared light when there is no enough light to form a usable image. The infrared ray is almost undetectable, but the lens will pick up the source of light together with any other available light to give hunters a brighter image in the dark.
It is amazing how much light gain you can achieve with these devices. The light gains usually vary from 15000 to 40000 times the actual light.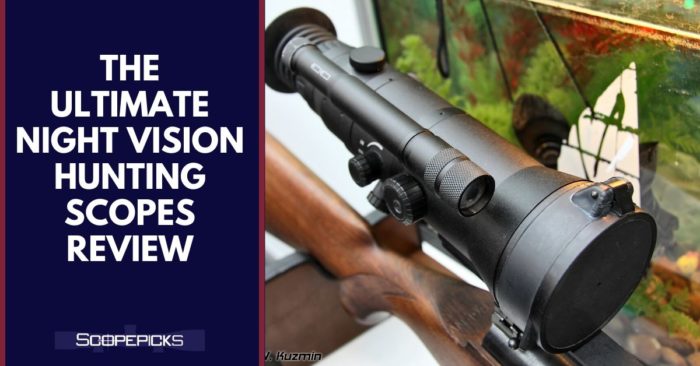 Things to Consider When Choosing Night Hunting Rifle Scopes
Night vision hunting scopes is a weapon-mounted device. It works by amplifying ambient light to help you view your target at a distance in a near-dark environment. It can also use IR light to make objects in darkness more visible for you.
So if you are looking for the right night vision hunting vision scope, you need to know how to choose the best from the wide variety of these gadgets available on the market. Here are some of the most important factors to consider when choosing a night hunting rifle scope.
Technology
You need to choose the technology that you want. For most hunters, digital night vision is the real deal. Besides the fact that it is less costly, it provides everything you need to have a successful night vision hunting.
Such night hog hunting scopes generally have more to offer. And what about traditional night vision? Well, there is still a lot of charm in it, I can tell you that. One of the most notable qualities of the traditional night vision is its durability. They tend to be more durable. 
Magnification 
Night vision hunting scopes vary in magnification. These types of scopes typically have moderate types of magnification. That is just enough for them since they cannot see as far in low light as a normal scope during the day.
Moderate magnification is just enough for a night vision hunting scopes, so do not expect more than that. However, there are some digital models high magnification specifically for daytime use. 
Battery 
Night vision hunting scope requires that you use a scope that is not only very effective but also has the best battery type and life. This is partly why it is necessary to gather all the information regarding the battery that is required and the appropriate battery life before you choose a particular night vision hunting rifle scope.
Some optics use very expensive batteries that are not even rechargeable. Some are simple and just use the AA batteries. You can also find optics that use high-quality rechargeable batteries. 
Extra Features and Accessories 
Sometimes it is the extras that make all the difference. Sometimes such extra features and accessories are what set the night vision hunting scope apart from the rest. And since there are so many options to choose from in a flooded market, you need something extra or unique that will work to your advantage.
Digital Scopes somehow need some form of IR booster or the slightest light to provide the necessary vision at night. Therefore, some models come with IR booster or light on board while some do not so that you have to purchase them separately. It is costlier to purchase these things separately.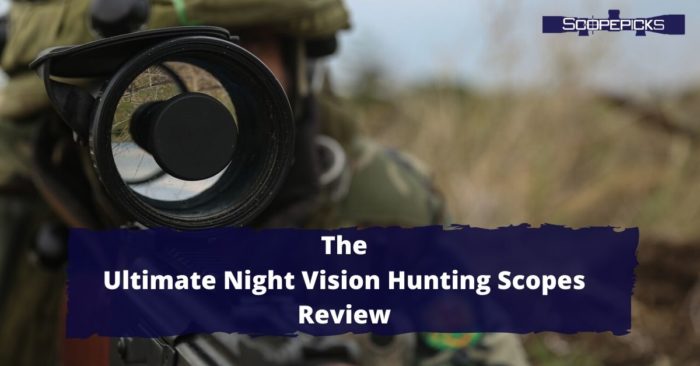 Top Night Vision Hunting Scope 
There are lots of amazing night visions Scopes out there. However, they vary in quality, price, and more. Here are a few of the most popular ones at the top. Some of them are night vision hunting scopes for sale.
This contains a super-powered computer that uses a quad-core processor. That way, it covers everything the scope does. It is n all in one scope with functions such as a ballistic computer, GPS, range finder, compass, 4K LCD monitor, video and sound recorder and much more. It would be a great scope if you need something more sophisticated as you can see.
This is one of the most versatile night vision scopes on the market. The magnification is excellent with long battery life to boast of. It is lightweight but still delivers optimal durability and performance than many of its rivals cannot match. You can mount this coyote night hunting scope to just about any regular rifle without the fancy mounts or bases.  
This is one of the very few night hunting scope inexpensive that is worth every penny. It is a digital scope that is small in size and weighs just 2 pounds. These qualities make it even more suited for the task and in somewhat very unique like that. It has a maximum magnification of 3x which may seem little but that works well for this scope. 
Final Verdict 
With the ultimate night vision hunting scope review, you should be able to understand more about night vision hunting rifle scopes and subsequently choose the most appropriate one for you. When you finally get your favourite night vision hunting rifle scope, you should use it in a familiar hunting ground. Also, remember to carry extra batteries when you go hunting.