For some people, seeing objects at night is necessary, while others take it as a hobby. Night vision binoculars help you to extend your activities late in the night.
They allow you to have a better view of distant objects. Unlike other binoculars, night vision binoculars have more advanced features and have a different price.
The binoculars exist in various forms. There are several things you should consider when choosing the best night vision binoculars.
Selecting the best among the many can be confusing. In this article, we will discuss more on how to choose night vision binoculars.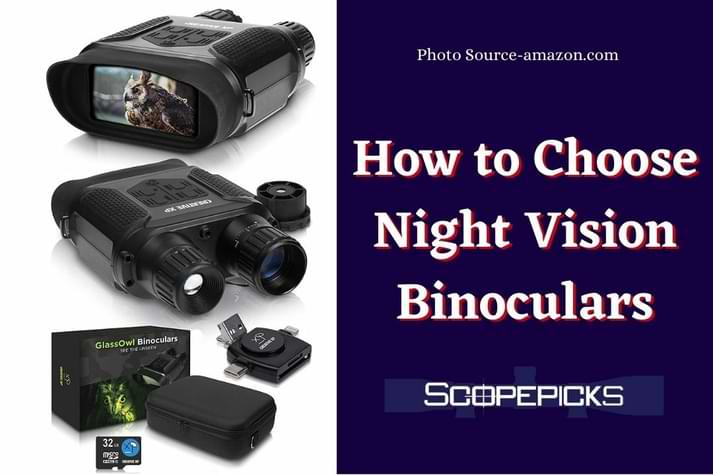 Some Tips in Choosing Night Vision Binoculars
Before you buy a binocular, it is essential to understand several essential aspects of binoculars. These tips will help you pick the right night vision binoculars for bird watching.
Consider the purpose of the binocular to find one that suits all your needs. Some people need night vision binoculars for hunting while others for viewing animals.
The type of environment you dwell in is essential when choosing the right night vision binoculars. Climate affects the visibility and light levels of a binocular.
Different binoculars are good to use in different weather conditions. Also, consider the distance. There is no need to spend more on a gear that covers a long distance when planning on seeing close objects.
A waterproof model lasts longer than the other models. If you are using the binoculars outside, go in for the water-resistant models.
Guide to Night Vision Binoculars
It is essential to know how a night vision binocular works and what to look for in night vision binoculars. These devices have three controls; the front lens focus, on and off switches, and the eyepiece focus.
Some devices have separate power buttons for the IR illuminator and the main power. The switches control the two indicator lights; hence leaving these indicators on can drain the batteries.
Some have the IR illuminator control systems to adjust from wide field to narrow field illumination.
Using the device is a two-way process. First, you have to focus on the eyepiece. Set the eyepiece without removing the protective lens cap. Identify where the image is the sharpest.
Once it is set, the distance from the glowing screen to the eyepiece is set. For units with losing focus rings, use a small electrical tape to keep the ring in place. Only adjust the objective lens to focus on various objects.
Some binocular models feature an aperture ring. The ring controls the amount of light in this device. It can be used to brighten or dim the display to attain a comfortable view.
What Should I Look for in Night Vision Binoculars?
The higher the magnification of lenses, the minimum the level of light. Choose binoculars with a high level of light. This is essential for most late-night deer hunters.
Good image quality allows you to see objects through the binoculars easily. However, good image quality comes at a higher price. Before settling on any image quality, identify the climate of your environment. Purchase a binocular with good image quality to avoid straining.
A good focus provides one with the best image clarity. Choose binoculars that have diopter rings that allow you to adjust each barrel quickly. You can also choose one with a central focusing wheel to control both barrels one after the other.
These are crucial for those who use binoculars in low light. They make an image appear more clearly through light amplification.
Night Vision Binoculars for Bird Watching
Sometimes the moonlight is not enough for viewing the beautiful birds. A night vision binocular can be of great help as it provides you with a powerful view.
Having enough knowledge on how to choose night vision binoculars for bird watching is essential.
Infrared night vision binoculars are the best for bird watching. They collect the existing light and amplify the light through the objective lens. Binoculars that contain infrared illuminators can be used in total darkness.
Which Night Vision Binoculars Are the Best?
Night vision binoculars exist in different modes. The best night vision binocular is one that fulfills all your needs. A good binocular should be easy to use and deliver quality results.
The image quality should be great to avoid overstraining, in my opinion. Binoculars with infrared illuminators are the best. This is because they do not depend on the moon for light.
How Far Can You See with Night Vision Binoculars?
Different binoculars cover a different distance. Various factors affect the distance a night vision binocular can cover.
Models with higher magnification powers allow you to see objects that are far away. Also, it depends on how big the object looks.
You can recognize a person 300 yards away, although you will not identify whether the person is a man or a woman. But when a person is 50 yards away, it is easy to identify their gender.
The amount of light also determines the distance. A bright night allows you to see over a long distance. Some devices are specially made for long distances.
Can You Use Night Vision Binoculars During the Day?
Just as the name suggests, night vision binoculars are primarily made to function during the night. These devices amplify light to allow you to see through the darkness.
Nevertheless, some digital models can function in the day and night. Use the correct model during daylight to avoid damaging your optics.
First-generation binoculars can severely damage your eyes when you use them in direct sunlight. In case you want to use your night binoculars without harming your eyes, you can purchase add-ons to protect the binoculars.
Final Verdict
Night vision binoculars can be of great help when hiking, hunting, or viewing wildlife. You can enjoy night vision without using a flashlight. With a wide variety of binoculars in the market today, choosing the right device can be challenging.
A high-quality device costs more. I hope the above article provided you with enough information on how to choose night vision binoculars.