If you are into speed and accuracy, then you need to get the best red dot sights for the money. As compared to iron sight, red dot sights allow you to pin the target accurately and faster.
They have a simple design that makes them easy to use. On top of that, red dot sights are also suitable for beginners. So, are cheap red dot sights any good? What is the best red dot sight for the money?
Well, these are probably the questions you are asking yourself. The truth is, you don't need to break your bank to get a quality red dot sight.
These devices are available in different budget ranges to suit even people on a tight budget. Therefore, we prepared this guide to help you out in selecting the best budget red dot sight.
So, let's dive right in!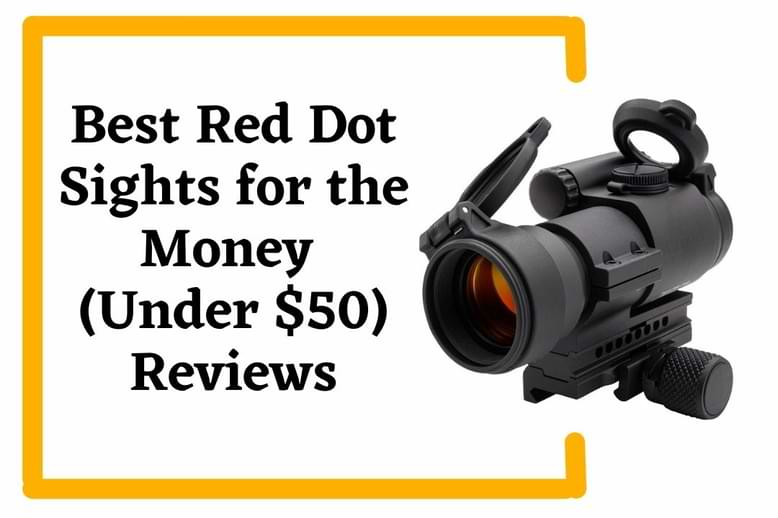 The 11 Best Red Dot Sights Under $50 Reviews
When it comes to the best red dot sights for the money, there are several options that you can find. We have researched and narrowed down your options to make your work easier.
The following are the best cheap red dot sights that we recommend –
UTG 4.2″ ITA Red/Green CQB Dot
The UTG 4.2″ is one of the most versatile red dot sight that you can use in rifles, pistols, short guns, and much more. It provides you with a crisp dot to help you get precision shooting.
Installing this sight on your weapon is pretty easy. This is because it features a QD lever lock that is fully adjustable for easy installation.
Users also enjoy a good field of view since it has unlimited eye relief. On top of that, you will love the sharp and clear MOA dot sight.
The device features a high-tech emerald coating to ensure that no reflection takes place. It also features both red and green dot that works well in any environmental condition.
Another great aspect is the illumination rheostat that features variable brightness levels. This helps you to get fine adjustments. This red dot sight also features lockable elevation and windage.
Pros
The red dot sight is versatile
It is easy to install
Provides accurate shooting
You can adjust the brightness levels
Great build quality
Cons
Some users don't like the quality of the optics
Great but not visible in sunlight
Ozark Armament Rhino Red Dot Sight
If you are looking for the best budget red dot sight, this model can be a great selection. This is an affordable and durable red dot sight that you can use in any condition.
It is waterproof, dustproof, and fog proof, so you don't have to worry about these conditions. You can also use it on a large or small rifle and shotgun.
The best thing that I like about this red dot sight is accuracy and speed. If you have been missing your targets frequently, this sight will help you achieve accurate shots.
And the best part is that it can maintain zero even after many rounds. You can achieve fast target acquisition since it has a wide field of view.
This red dot sight is perfect for hunting or tactical use. It also features a fully adjustable elevation and windage, so no more problems when getting accurate zero.
Users also love the long battery life of up to 3000 hours when using it on medium brightness. The red dot sight also has a rating of around 50 BMG recoil.
Pros
Gives you fast target acquisition
Has a long battery life
Has a durable aluminum body
Easy to sight under any condition
Works well with large and small rifles and shotguns
Cons
Complaints of poor quality control
Not suitable for targets beyond 100 meters
Ozark Armament Rhino Red Dot Sight
Ozark Armament is an ultra-rugged, dust-resistant, fog-proof, and water-resistant device. It means, therefore, it can perform in any condition.
It also has a glass that is parallax-free for a clear view. Standard iron plus all Ozark iron sights fit perfectly to this device.
The cantilever rail requires no tool to mount; hence it is fast to install and remove. Ozark Armament is very accurate as it features a 4 MOA precision. It upholds zero throughout thousands of rounds, and sighting is rapid and fast.
This Ozark Sight is adjustable to fit Weaver and Picatinny rails. Elevation and windage are adjustable to obtain a precise zero with ease.
Its battery can last up to 125 days while on average brightness setting. The recoil is rated to about 50BMG.
Pros
Flip-up lens cover
Made of durable aluminum material
Easy mounting
Great co-witnessing
Water and shockproof
Cons
The dot gets foggy
Inner seal unglue easily
UTG 3.8″ ITA Red/Green Circle Dot Sight
UTG 3.8 inches ITA is a 4 MOA target and 62 MOA circle dots. It features five brightness settings that allow for varied environmental backgrounds. It has an objective lens with a diameter of 38mm.
This sight has an integrated Picatinny mount that is easily detachable and has an adaptable cam lever system to lock tightly.
The lens cover is easy to open and close as if you just need to flip on the side. UTG Sight has an optimal height to allow it to co-witness with several AR models' iron sights. Its field of view is at 100 yards and has a flexible eye relief.
It features non-reflection emerald coatings that use very high technology. This device is made of aluminum material that resists wear (damage), making it last for a more extended period.
Pros
Shockproof
Easy to use
Has a mounting deck for quick detach
The reticle is very bright
Flip-open cap
Cons
Manual switch-off drains the battery faster
Lacks risers
Twod 1x22mm 5 MOA Red Green Dot Sight
Twod is a red and green dot sight with pinpoint accuracy. It features a wide area of view to help you hit the target with ease.
It works perfectly with a variety of firearms. Also, it has a 5 MOA reticle and a rheostat adjusted using your finger to allow brightness control.
The infinite eye relief, multi-coated optics, and an anti-reflective coating produce a sight that leads to great performance. The device comes with a 2x CR 2032 battery and an instruction manual.
Other accessories included are a wrench and a clean cloth. You can easily adjust the elevation plus the windage.
The adjustment knobs allow for an easier switch from red to green dot and vice versa to adapt to different environmental conditions.
Pros
It is lightweight and small
Water, shock, and fog-resistant
Has FMC optics
Very durable with a strong anodized finish
Seven illumination settings
Cons
Has quality control problems
Glass not tinted
Tasco .22 Rimfire 1x30mm 5 MOA Red Dot Riflescope
Tasco is a Red Dot Sight used with shotguns using a maximum of 3-inch shell, .22 rimfire, and handguns with a maximum of .357 magnums.
It is very bright with a wide area of view to allow you to hit your target with ease and faster. It has 1x 30mm Pro-Point riflescopes and R/ML FC lens coating.
It features infinite eye relief and 1 MOA elevation and windage settings. The optics have HD clarity, are fully coated and multi-layered using Rubicon. This device is made of high-quality materials for durability, and it has a very beautiful design.
Tasco dot sight has an incorporated dovetail rail so it can fit Weaver and standard centerfire bases. This device comes with a CR2032 battery.
Pros
Fits many firearms
Has fully coated optics
Striking HD clarity
Has a wide field of view
Easy mounting
Cons
Stiff brightness knob
Needs a screwdriver for adjustments
Field Sport Red and Green Micro Dot Sight
Field Sport is perfect for sport shooting, hunting, and other tough applications. The red dot has a Parallax design that does away with centering practice. It features a Mil-Spec Picatinny base system that allows for easier mounting.
Field Sport Sight has five brightness settings for both dots. It allows you to have a two-eye sighting to quickly see your target and situation awareness. The elevation and windage are adjustable and locks perfectly with a screw.
This device is made of high-quality aluminum that is aircraft-grade for durability. This material makes it waterproof, shock as well as fog resistant. It is, therefore, suitable to use during all weather conditions.
Pros
Lacks parallax error
Has Picatinny base for mounting
Very accurate red dot
Two eyes sighting design
Head screw available for easier adjustments
Cons
No warranty
Optics not coated
Field-Sport Micro Red Dot Sight
Field Sport is a low profile and small Red Dot with a 4 MOA and a Picatinny Weaver Mount. It can be used for all the tough job applications, including sport shooting and hunting.
It features a Parallax design for the red dot, so you will not be required to do a centering setting. With11 different brightness settings, you will use the Sight in all weather conditions with any image glare.
This will help you to shoot your target with a lot of precision and fast. You will be able to use both of your eyes to view an image.
This device is made using great quality aluminum material that withstands all the tough tasks. This further increases its durability as it cannot get easily damaged. You will be able to modify the elevation plus windage.
Pros
Very cheap to buy
The sight is durable
Several brightness settings
Lightweight for easier use
Great accuracy
Cons
Fails to co-witness with no raiser
Some zeroing required
Ohuhu Red Dot Sight
Ohuhu is a red and green dot sight and contains 4 reticles to offer corrected parallax. It features a rail that is easily compatible with dovetailed and standard bases.
It has an unlimited eye relief that allows you to have a minimum of three inches clearance between the mirror housing and the Led edge.
It has a tubeless design with a reflex lens diameter of 33mm offers a wide area of view. This feature makes it ideal for shooting moving objects and for rapid shooting.
It has both red and green illuminations to enable you to shoot at different background colors and different environments.
There is also a reticle knob that allows you to choose your favorite reticle easily and faster. Accessories included are two wrenches, rubber lens cover, CR 2032 battery, 4 reticles, and a cleaning cloth.
Pros
Shock and water-proof device
Lightweight for easier use
Multi-reticle patterns
Integrated mount
Quite affordable
Cons
Fails to mount with Allen wrench of 3mm
Fails to hold zero
Feyachi Reflex Sight
Feyachi reflex sight is a high-quality device that contains 4 styles of adjustable reticles, and it has both green and red dots.
The reflex lens has a diameter of 33mm, giving you a wide view to offer quick target acquisition. It has an open design to allow you to have a clear view of your surroundings.
Feyachi features five brightness modes of setting, allowing you to carry out shooting or hunting practices in all weather conditions.
Eye relief is unlimited, and it has an adjustable range of (+/-) 30 MOA. It has a very strong rail for mounting that will not get loose.
This device is shock-proof, ultra-light, and waterproof. It comes with a powered 3V Lithium battery, two wrenches, a rubber lens cover, a cleaning cloth, and four reticle patterns. It is made of stainless steel material.
Pros
It is durable
No parallax error
Multi-reticles for several shooting needs
Additional 45 degrees external attachment
Cheap to buy
Cons
Lacks knobs or Allen wrench adjustments
Not so pleasant for beginners
CVLIFE 1x22x33 Red Green Dot Gun Sight Scope Reflex
CVLIFE 1x22x33 is a strong sight device made of aluminum alloy with an anodized matte dark color finish.
It features a 3 positioned and green rheostat illumination for use in different backgrounds and environmental conditions. The lenses are coated using anti-glare reflective coating, giving you a clear view.
It contains 4 reticles which are 3 MOA, Cross, Circle dot, and 10 MOA. This allows for maximum versatility. The elevation plus windage are fully adjustable. The integrated mount can fit Picatinny, 20mm weaver, and also the RIS rail.
The package includese an Allen wrench, a protective cover made of rubber, and a CR2032 battery. It is lightweight and sturdy at the same time.
Pros
Offers excellent optical in different lighting conditions
Rapid and simple adjustments
Tubeless design for a wide area of view
Has four reticle designs to choose from
Allen wrench included for easier and correct adjustment
Cons
Not waterproof
Uses Allen wrench only to install
Buying Guide
Before you buy the best red dot sight for the money, here are some essential things that you should consider.
Lens
When it comes to choosing the best red dot sights, a lens is very important. This is because a good lens allows enough light to pass through to produce proper and sharply defined images.
However, it is useless to purchase a lens that doesn't serve its purpose, which wouldn't be considered a good lens.
Some lenses will not be considered the best/suitable for you because they are only good at light gathering. You need to be careful not to end up with a lens that won't help you at all.
Size and weight
Since the red dot sights are always smaller than that of binoculars, you don't need to worry. This is because they come in different sizes and weights.
A lightweight firearm is easy to handle and even to move around with it. You need a product that will make your work comfortable in the long run.
A light product is also easy to use since you don't need more energy to make you feel frustrated. That doesn't mean you choose a firearm that is not of good quality.
You need to pay attention to the features as well to get the accessory that matches your need. Besides, you can always go for the one that fits your budget and of your interest too.
Zeroing Performance
The red dot sights may not work well with zero performance. The reason is that they tend to work well by producing an excellent job but fails at the same time.
You can always check by testing the product for you to come up with presentable work. You can do this by shooting from different positions to get a good shot.
Mounting Systems
Before choosing the best red dot to ensure you have a sight that has a mounting system. You also need an amounting system that is adjusting with your firearm. Having all that in place, make sure that your mounting system is reliable.
You do not need a loose mounting system since it will not help you at all. You need to take your time to come up with a desirable mounting system.
Try and look carefully to avoid choosing the wrong one. This will help your performance to avoid tampering with it.
Dot Quality
The dot quality plays an essential role in the sight. You need to pay more attention to the dot by ensuring it always remains consistent.
Choosing a proper dot does not mean you want to depend on the color since it is not essential in this case.
Be on the lookout, check the quality try and see which one is best among them. You don't need to buy something that will not meet your need. You need a product's quality that will ensure your work runs smoothly.
Bonus Features
When it comes to this, it is idealistic that everyone will run for this. This is because some people will only go for products that have been offered to reduce the burden of spending more money on unpromising products.
But in a real sense, it is not essential in our buying guide. However, when there is a bonus offer, we will not turn it down. You need to bear in mind that it has all the features that you will need.
Most importantly, check the lens and the battery since they are the main concern for red dot sights. You don't need a lens that won't give you desirable work.
Also, go for a battery that will serve you for a couple of hours. You need to know the duration it takes for it to be charged again.
Warranty and Purchase Security
You need a long-lasting product. A long-lasting product saves you money since you don't need to go for that product before the indicated period reaches.
Besides, spending more money on a product that would not act as a protector for the investment is worthless if it does not produce good work.
It is also important because if the product fails to accomplish your task, it is always advisable to take it back for an exchange for other products.
Benefits of Red Dot Sight
Do you really need a red dot sight? What are some of the benefits that you will get from a red dot sight?
Well, a red dot sight is important because it provides you with many benefits. Here are some of how you will benefit from a red dot sight.
A red dot sight is important if you want to achieve accurate shooting. Even if you are one of the most accurate shooters, you can sometimes miss your targets.
But if you have a red dot sight, you can increase your accuracy and achieve precise shots. These sights also work well when you are aiming at a moving target.
You don't want to add more weight to your weapon. This is why red dot sights are designed to be lightweight and compact to make your work easier.
They feature a mount that helps you attach and detach from your weapon perfectly. On top of that, they don't occupy much space.
I know you can use scopes and binoculars too but these devices are bulky. They also need a lot of attention from you so that you can hit your targets perfectly. Since sight is small and compact, hunting and shooting become easy.
This is another benefit that you will get from red dot sights. They have mounts that give you the chance to mount them on different types of weapons.
After all, I don't think you can spend money buying a red sight for every firearm that you have. On top of that, it is easy for you to choose the brightness, dot color, and reticle patterns, among others.
Red Dot Sight Care and Maintenance
Taking care of your rifle scope is very important. It's simple since you only need to clean regularly and take care of it to prolong its usage.
However, this will prevent you from purchasing a new rifle and will save you money. The following are the tips on how to clean and take care of your red dot sight –
How to Clean Your Red Dot Sight?
You will remove larger particles by using a soft brush to clean the lens in your rifle scope. As for the smaller particles, you will use microfiber to clean. Make sure the cleaning is done softly.
The crusty particle should be blown from the ground. Do not use your finger.
Cleaning Dust and Dirt From the Inner Edges of The Scope
Here you will use cotton ear buds to roll the bud on the inner edges softly. You can also use a thin stick wrapped with cotton if you cannot get the earbuds.
How to Clean Smudges From A Scope Lens
To clean water droplets, oils, or smudges from your rifle scope lens, use a thin stick wrapped with cotton. Then dipped the stick wrapped cotton in alcohol to clean the lens gently.
How to Take Care of a Red Dot Sight?
Use a scope cleaning kit that you must buy with your scope. To avoid damaging your lens coating, you need to avoid using a cleaning solution on your scope. Besides, it will not be able to decrease the light.
To avoid movement during flinch, make sure you check the scope rings and the scope to see if there's clamping.
The clamping should be tight because if not, it will destroy the inner elements due to flinching. Apart from that, you will not be able to shoot accurately.
Make sure to check turret caps and mounting more often. Ensure they are tight because loose mounts will separate and damage your scope. Besides, you cannot perform zeroing a rifle with non-flexible mounts.
How to Store a Red Dot Sight Properly?
Clean Scopes Regularly
When you will be going out, ensure you have your microfiber cloth with you to clean your scope more often.
Always Separate Your Scope From the Rifle
Always separate your scopes from the rifle while you are moving. Separating scopes from the rifle will help you save your scope and will enable it to be in good condition.
Moreover, you will not be able to go for a new scope frequently. Hence this strategy saves you money.
Place Your Rifle in a Downward Position
To prevent water drops on your scope while hunting during the rainy season or summer, ensure you carry your rifle in a downward position.
Placing your rifle facing downward and covering the eyepiece with your arm will prevent dust as well.
Avoid Putting Your Rifle Optics Together
You can avoid storing more scopes in one case since they will be destroyed during transportation.
Frequently Asked Questions
1.I Just Got Myself a Good Red Dot Sight, but I do not know How to Adjust the Zero?
To adjust the zero, you need to ensure that you have good quality red dot sights and a good mounting system to enable your adjustment. Having an equipped sight will help you set your shooting provided your gun is appropriately placed.
Once the setup is done, you can try to shoot and see if you hit the right target. If not, try and make changes to reach your target.
2.How do I know When I Should Change the Batteries in My Red Dot Sight?
A rechargeable battery is always good to use since you can charge it if it has no power. When the battery is full, you will be able to see the sights and the dot.
When the battery is low, you won't be able to see clearly or not to see anything at all. This is probably because the battery is low, and it needs replacement or recharging.
3.How Should I Mount the Red Dot Sight onto My Gun?
To be able to mount the red dot sight onto your gun, you need to make sure you have all the materials that will help you. Checking will also help you know if your mounting rails hold the sight of the red dot into position.
For this to work, ensure it is similar to your gun. From there, you can proceed by loosening the clamp.
Then place the sight for the red dot onto the rails and adjust. Check to see if your gun is loaded. If unloaded, try and load it to prevent damages or to prevent misfiring.
Final Words
Red dot sights offer a wide range of benefits like a more extended range, accuracy, and speed than other traditional sights.
If you are on a budget, you can still get a quality red dot sight that works well. We have provided you with unbiased reviews of some of the best red dot sights for the money available. These are devices suitable for both beginners and professional shooters.
Depending on the features you want, I hope it will be easy for you to make comparisons and choose the best budget red dot sight.