Introduction
What is the first thing you think of when you hear of a zombie invasion? Having the power to kill as many as possible right?  With a wide range of Nerf zombie strike line of guns, you will get to do the job but will require two hands to get as many as possible. However, the Nerf zombie strike slingfire will allow you to have the ultimate battle of zombie versus cowboy by using one hand to fire, reload and repeat.
If you are looking for another sniper rifle for fun then you can check out the list in here: Best Nerf Sniper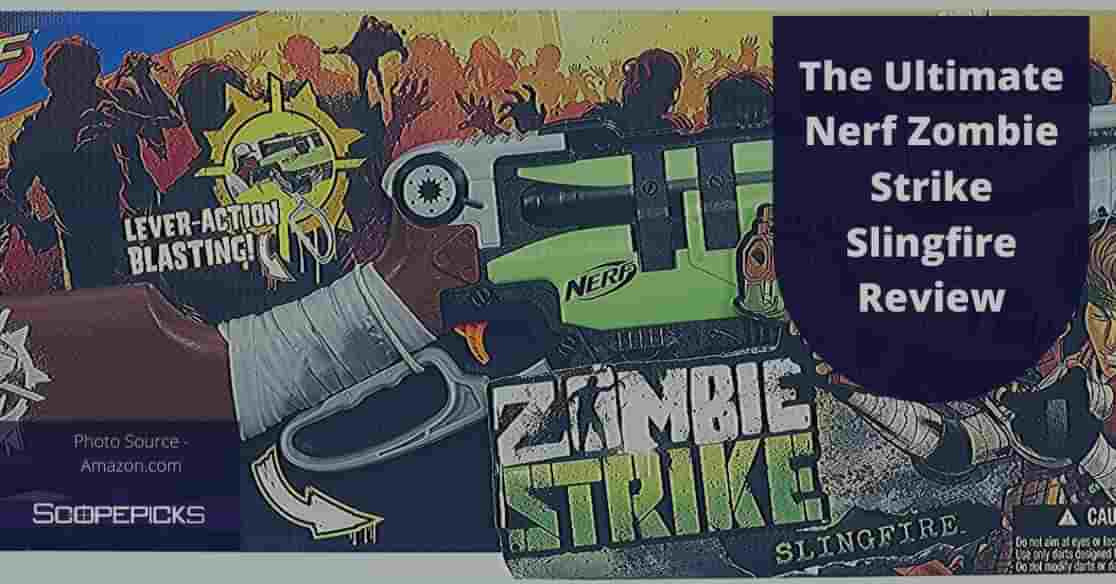 Specifications
Company            Hasbro
Brand                   NERF
Released             July 21, 2017
For ages              8-99 years
Dimensions        2.1x 26.5x 10 inches
Weight               2.18 pounds
Details
The Nerf zombie strike slingfire is comes with some neon green prevails with a brown handle as well as black and orange accents. It features a zombie logo on its handle to give it a bad boy look. So is the Nerf slingfire any good? Well, it comes with a number of features which include the following.
With its tactical rails, you can get to add several accessories to enhance the performance of the Nerf zombie strike slingfire blaster. It is also made from some of the best high quality materials which are not only durable but also safe. You will not only get a gun that is meant for all ages including kids as young as 8 years, but you will also get one that will serve its purpose for a very long time.
Aside from that, this Nerf gun included with six 6 dart clip as well as 6 zombie strike darts which you can load into the Nerf slingfire magazine. It also has a lever action blasting and you can get to cock it in two ways. You can either flick it in order to cock it using one hand or swing the lever. On top of that, you will have a user manual with instructions you will need to use it.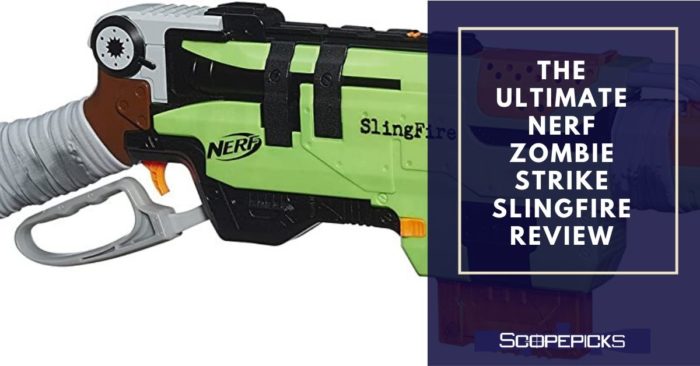 How do you use a Nerf slingfire?
Using this gun is quite easy and you can do so by following these few steps.
Begin by loading the included nerf darts into the nerf slingfire blaster magazine.
Next, you fit the magazine inside the slingfire.
After that, prime the gun by using the bottom lever action.
Aim to your nerf zombie strike slingfire target which of course is the zombie heads and then take your shot.
Once you fire the first dart, repeat the process until a reload is required.
How do you modify a nerf slingfire?
Modifying a nerf gun will depend on the type of nerf gun that you have. Nerf has got two types of blasters; the pump blasters and the spring blasters. The nerf zombie strike slingfire blaster is a spring blaster since it is primed using the cocking mechanism. Nerf zombie strike slingfire mod is to be done in the following ways:
First you need to get into the nerf slingfire internals. You can do so by unscrewing all the screws.
Remove the small pieces that may get in the way of the modification process.
After you will have to remove the air restrictor as well.
Once you are done you will have access to the spring which requires replacement.
When you replace the spring, you can go ahead to seal the improvement and replace the barrel.
You can check out the latest price of this awesome
Nerf Zombie Strike Slingfire in here.
How do you fix a nerf gun slingfire?
When the jam door gets loose and opens up unexpectedly, you will have to either tighten the screws or you find a small piece of paper and fit it behind the hinge at the jam door. For the case of your gun not firing, it may be due to a misaligned plunger.  You will have to open the gun and re position the plunger in order for the air to flow straight into the barrel.
Features and detail information of Nerf Zombie Strike Slingfire:
It has a lever action that can allow the user to operate the gun with one hand
If you are familiar with the buzz bee rapid fire trek, then you will find that the lever mechanism is the same as this blaster
This blaster was the second of the nerf brand blaster to have a lever action. The first was the Multishot Madness Diatron.
You will find that the actual jam door is orange although in photos it will show a green jam door. It is like that because the pre-production model had a green jam door which was changed in the final model.
You will find a value pack which comes with at least 25 darts as well as 25 dart drums.
Conclusion
If you think of zombie mass extermination this  nerf zombie strike slingfire can be your great option. This Nerf gun is one of the high quality toys that are safe for kids of all ages. Even the adults loved it for it's look and performance. I highly recommend you to have this in your Nerf battle. Good luck.