Red Dot Sight for Pistols – All You Need to Know
Introduction
If you are a competitive pistol shooter, then you know that red dot sight for pistols is the way to go when you want quick and accurate shots on target. Before, red dot sights were huge in size and they couldn't be mounted on a concealed weapon like a pistol. However, with advanced technology today, red dot sight mounts for pistols have also been improved. You will find that many manufacturers create carry pistols with pre-drilled mounts that can accommodate a red dot sight. Others design pistols together with a red dot sight ready for use immediately. Below, I will take you through some basic information on red dot sights that you must know about.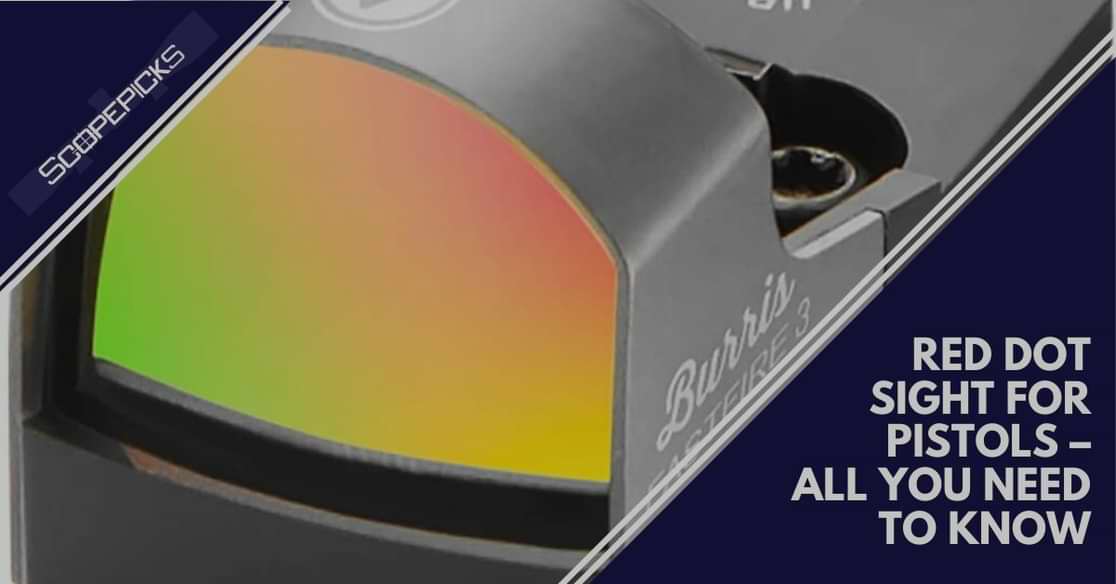 First off, let's start off with what red dot sights are and how they work.
What is a red dot sight and how does it work?
A red dot sight is also known as a reflex sight is an optic created to offer a shooter shots on target at mid to close ranges. A red dot sight normally utilizes a reticle to acquire targets. The red dot light is the reticle that this optic uses and it is normally 1x without an inbuilt magnification.
That is the reason as to why it is called a red dot sight or optic rather than a scope. Like I mentioned before, these optics have been around for a very long time and they have largely improved with time to be accommodated by full size guns and pistols.
That brings me to how a red dot sight for pistols works. It is quite simple really because they use glass as well as a light. A red dot sight comes with a spherical mirror which is used to reflect light coming from an LED of the optics axis focus. The mirror only reflects red light due to a special coating on it that will prevent any other light from obstructing the reticle.
In simple terms, the LED will emit light onto the piece of spherical glass. The glass will then reflect the light onto it to create a reticle (red dot). When this is done, you will be able to see the reticle created through the optic. However, the target will not be able to see the reticle.
If you want to learn about gun scope and rifle scope you can read this articles: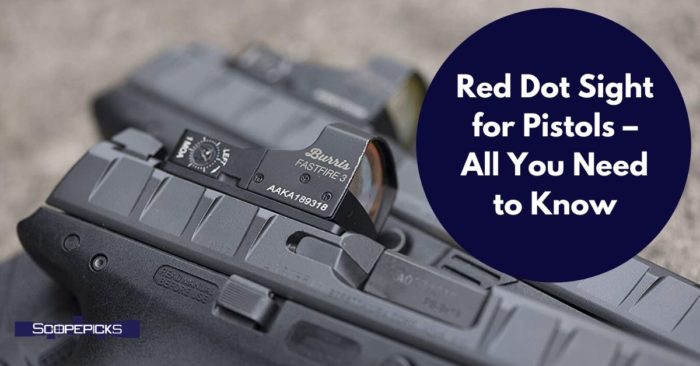 How to mount a red sight on a pistol
Pistols now days come with already cut out slides that can fit optics. Below, I will guide you on how you can use the cut out slide to mount red dot sight on pistol.
Step 1. Start by removing the screws from the lower mounting piece. This way you will have better access to it. Once you are done, place the mounting piece on the mounting space and then clamp it in.
Step 2. Then, place the mounting plate onto the slide and it should be in line with the lower mounting piece that you already inserted.
Step 3. Apply loctite on the mounting screws, before you drive them into the base. Drive all the screws in first before you completely tighten them. Once you are done driving them in, you can then tighten them.
Step 4. When you finish tightening the mounting plate, you can then place your red dot sight on it. Align the holes well and then drive in the screws but don't tighten them before you sight in it. Only when you are done sighting, you can then tighten the screws.
A red dot sight pistol mount is easy to work with when the handgun comes ready with it. In case your pistol don't have a mount, you will have to take it to a gun smith to cut the slide for you.
If you are are looking for sniper rifle for fun or for your kid then you can check out the list in here: Best Nerf Sniper
How to use a red dot sight pistol
Once you are done mounting the red dot sight on carry pistol, you can then sight in it and then begin to make shots. Remember that you will have to check if you have properly mounted the red dot because if it isn't mounted well, you won't get shots on target. Below I will show you how to use a red dot sight pistol.
First you will have to figure out where or what you are aiming your gun at. Look through the sight just above the barrel and see that the red dot is at the top of your iron sight in the front. Once you determine it is at the iron sight, you can proceed to adjust the windage and the elevation using the adjustment knobs that are on the optic.
Take a few shots at different distances to determine the point where your pistol is zeroing from. If you are a beginner, start from 15 to 20 yard ranges it will be easier for you to zero the red dot sight.
If the pistol is off target, make other adjustments and then take a few more shots from the same distance as before. Repeat the process until you are get the desired zeroing. When using a red dot sight for hi point pistol, you will have to remain focused on your target and not the red dot. Also, keep in mind that when you use different ammo, you will get different sighting distances.
Check out the latest price of a red dot sight for pistol in here.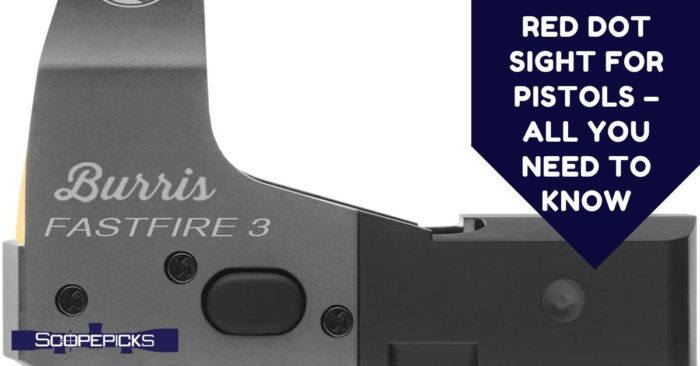 Red dot sight vs laser pistol
Red dot sight is used for aiming at targets and it is mounted onto a pistol. Red dot sights don't have crosshairs but rather a red dot that the shooter sees.
Lasers on the other hand simply project a beam of red dots on a given target. Unlike red dot sights which can't be seen by the target, lasers can be seen. The two can be used together in case a shooter wants to be accurate in dim light areas.
Conclusion
As a wrap up on my red dot sight for pistols, you should know which is between a red dot or scope for pistol. Pistols are usually used to acquire short distance accuracy. So between the two, the red dot on a pistol is the way to go rather than a magnified scope which is only great for long-distance target acquisition. The above red dot sight pistol review is a decent attempt from me to inform you as much as possible from my learning. With the above tips and recommendations, I believe, you will be able to acquire fast and accurate shots on your pistol. I hope it will be helpful for you.
Good luck, happy hunting!!!