Introduction
The Barska 1-4×28 IR Hunting Scope takes approximately 20 rounds to get it to zero. Even once it gets to zero, you need not readjust it. It can stay at zero without proving to have any difficulties even after use over time.1x is considered the lowest magnification, and the highest magnification is 4x. At both low and high magnification, the rifle has clear images making it the best for shooting. The scope also has an illuminated mil-dot reticle.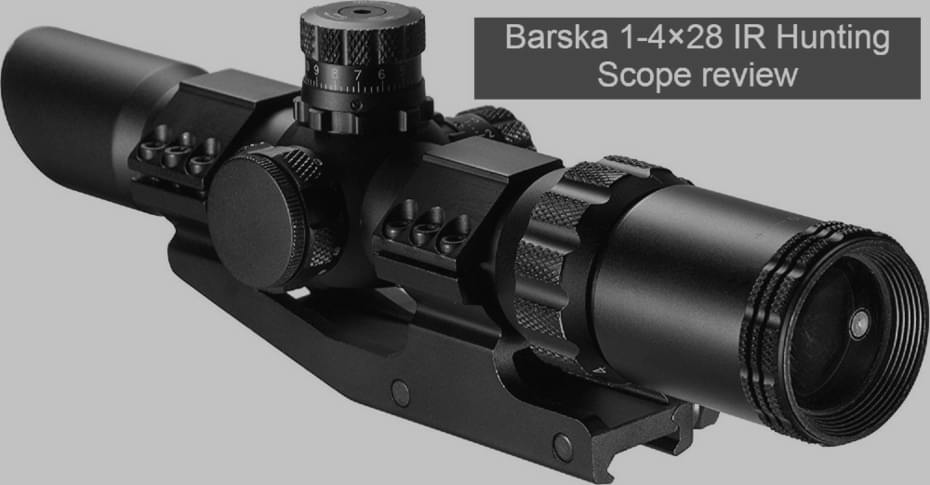 Barska 1-4×28 IR Hunting Scope review
This scope is lightweight and helps avoid the additional burden that comes with carrying a rifle. It also remains functional under varying weather conditions and light conditions.
Barska scope comes with a highly affordable lithium battery, amount, and lens caps that are plastic, which is easy to remove and prove to be long lasting. It is part of the Barska 1-4×28 IR review highlighting some of the top reasons to acquire the Barska 1-4×28 Hunting Scope.
You can check more Barska scope in here – Best Compact Scope – Review & Buying Guide
Illuminated Mil-Dot Reticle
An illuminated reticle keeps you on your target in dim light situations. With the switchable mil-dot reticle, you can change the color that ranges from black to green and red. In the daylight you must use black but green and red you can use it at night.
You can quickly adapt the crosshairs to fit the current lighting environment with a red or green or black illuminated reticle option that also provides adjustable brightness.
The reticle is said to be mil-dot. Once you zero the sight, the dots help in ranging your target location. It depends on how many dots high the target is in your scope, and you can then aim accordingly.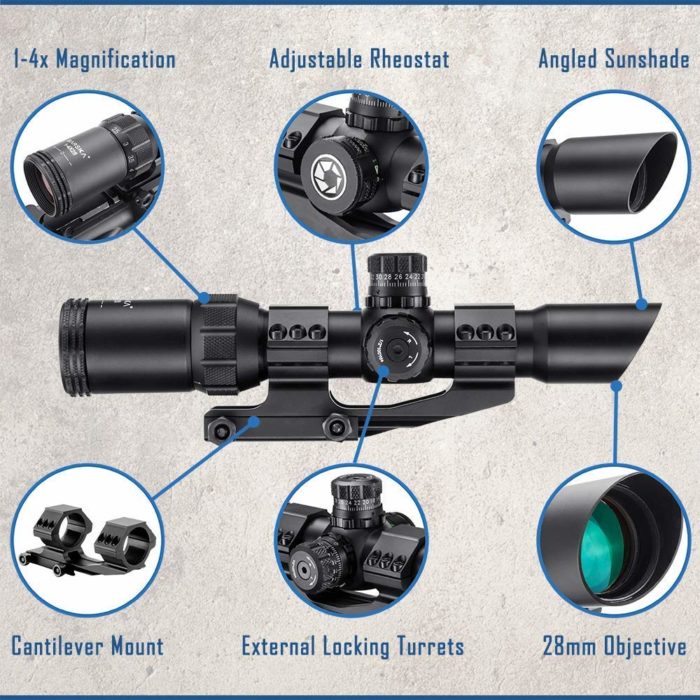 1x-4x Magnification
The Barska 1-4×28 IR Hunting Scope offers variable magnification in the 1 to 4x power range magnification for shots at mid-range and close-range shots, helping you acquire your target quickly. As I have already started, the 1x is the lowest magnification, and at this magnification, the hunting scope's iron sight gets used.
In turn, the highest magnification is 4x, and at this level, the hunting scope provides a quality image. This magnification makes this scope the best for shooting. With the best 4x rimfire scope like this one, the hunting scope is ready while walking in the woods or any other ready-to-shoot scenario.
An External Turret Lock
The external turret assists you as the user in quickly zeroing in on the target by keeping the scope in place. It can be locked in place to avoid unnecessary movement. Its windage and elevation turrets are locked in place to prevent unwanted change may be due to recoil force.
In such a case where you might have experienced problems with your scope losing zero, this is the perfect solution for you. You do not need to remove the turret caps since you can quickly adjust the impact point. Always remember to tighten the collar around the turret to ensure it is locked to avoid unnecessary movements.
Sunshade
The Barska IR Hunting Scope has a built-in angled canopy that helps minimize glare on the objective lens that, in turn, will provide you with a more unobstructed view. This edged sunshade comes in handy when you are out to shoot on a bright sunny day.
It gives a shadow that helps to reduce the bright light, thus acting as an anti-glare. The multi-coated optics and the inbuilt edge sunshade both help in reducing glare, and it increases the transmission of light giving the Barska 1-4×28 Hunting Scope great clarity ability.
You can find more Barska scope in here – Best Air Rifle Scope Review
Durability
Due to its dependable waterproof and shockproof make the Barska IR Hunting Scope ensures you of years of use. It has everything nicely sealed up and secures to prevent fogging and water-related issues. It is CO2 and nitrogen purged to reduce moisture content internally.
That is why once it sealed, it is declared waterproof, and being airtight is what makes it preventive of the fog.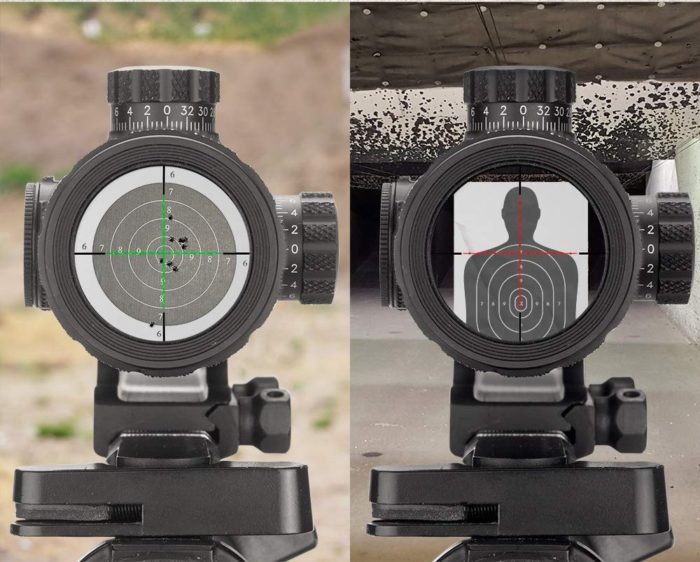 Pros
It is inexpensive.
Target turrets are 100% positive.
For mid-range and close range, the Barska IR Hunting Scope works as intended.
The scope is easy to mount on.
Built in adjustable brightness.
This hunting scope is waterproof.
No weather restrictions.
Cons
Due to illumination, the illuminated reticle makes the mil dots useless for range estimation.
The build quality may seem rugged.
<<<——————— CHECK LATEST PRICE———————->>>
Frequently Asked Questions
Q: How Is The Illuminated Reticle In Low Lighting?
A: When in low lighting, you can adjust the mil-dot's brightness so that it stands out but does not interfere with the image you see when you look through. The purpose of the illuminated reticle is to give you a color contrast against the backdrop of the images. But it also makes sure you have visible crosshairs in different light conditions.
Q: Is It an Infrared Scope?
A: The Barska IR Hunting Scope is not an infrared scope. Just because it has the IR initials on it, people tend to think of it as infrared. The IR initials mean Illuminated Reticle. It is not an infrared scope, and neither does it have an infrared setting that sees heat signatures.
Q: Does the Mount Come with the Scope?
A: Yes, of course. The mount comes with the scope and is an excellent fit for most common rails. It provides stability required by the shooter.
Conclusion
In the above Barska 1-4×28 review we tried to share our learned knowledge and experience about this scope to help you out while you take the purchasing decision. The Barska IR Hunting Scope is one  of the best 4x scope that you can get at an affordable price.
It easily fits into any common rail. So no trouble when it comes to setting it up and getting it mounted. The scope can be zeroed once and be kept for another couple of rounds. The scope is not affected by weather conditions and it has durable battery life. Barska 1-4×28 IR Hunting Scope contains everything a shooter requires for perfect targeting and shooting. It also comes with a Barska 1-4×28 manual to help in guiding you as the user, and this makes your work easier.