Hunting is a sport as well as a way of getting bread on the table. Many hunters use just basic skills and equipment while the professional ones use advanced tools of work.
You cannot assume that the two take home the same amount of meat. Of course, the one using advanced tools will reap great. What if you surprise a hunter with deer hunting gifts to show them that you care?
Below are deer hunting gift ideas that you can give to that hunter in your inner circle. They will live to remember you whenever they have it with them. All these gifts are essential to all hunters and will help make their work easier.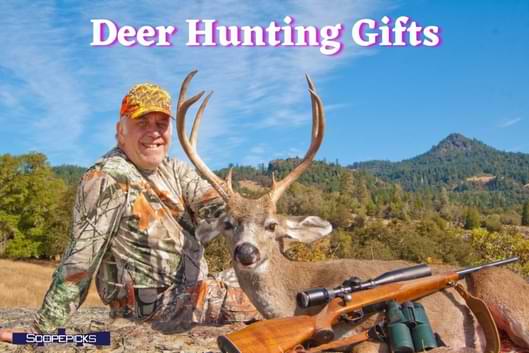 Deer Hunter Gifts- With Top 15 Ideas
If you are short of gift ideas to buy for a deer hunter, we will give you several options that you can choose from. Some thoughtful gifts would include the following:
Do you want to gift a deer hunter? Buck knife is a nice gift that all hunters should have. It is lightweight hence easy to work with.
Its blade is made of strong, durable material making it economical to buy. This is a nice gift that you can conveniently buy for a friend.
It is multipurpose; hence you will use it while hunting, processing, and in your house in normal cooking processes. Handle comes with a design that offers maximum hand comfort while in use.
SITKA Gear Men's Merino Core Lightweight Half-Zip
If you are a hunter, most of the time, you are on the run. Wearing many clothes to prevent cold may hinder free arms movement. Due to this, even shooting may be a problem.
Sitka gear makes it possible to feel warm and free altogether. Since it is made of nylon and merino wool, it provides warmth and moisture management. It is durable hence economical. Also, these materials make it light.
Due to the gore optifade pattern, it prevents the deer from noticing your presence. Especially relevant, it comes with a natural merino odor, which will help mask your smell from the deer. If you have headaches thinking of deer hunting gifts for him, I got your covered.
Campark Trail Camera-Waterproof
If you like what you do, keeping it as a memory is the best gift for you when you retire. For deer hunters, this Campark Trail Camera is the ideal tool for making your memories lively. It will help you film easily while hunting.
Coming with a 16MP camera, you can take HD images and 1080P videos. You will not miss keeping night wildlife memories since it comes with super infrared night vision. Also, this camera will help you in tracking deer for easy hunting.
With a wide lens angle of 120°, you can't miss seeing animal movement. It is waterproof hence ideal for fields, and easy to use.
Great hunters use professional equivalent. Even though some may not cost much, having many of them takes time and money. This forms capital for the hunter. Most of them are so delicate and need ultimate care.
Pelican Air 1535 Case will give your load the maximum protection. It has been designed to cut weight without compromising quality and durability.
The partitions are made with all hunting tools in mind hence ideal for every hunter. This is one of the best deer hunting gift ideas.
Pelican guarantees you a dustproof case with a watertight o-ring gasket. It also comes with an automatic valve hence balancing air pressure.
Are you looking for deer hunting gifts for Christmas? Look no more. Danner Men's Vicious 8″ 400G NMT Work Boot is a great deal.
It's made of waterproof leather top hence durable. It comes with a GORE-TEX lining making it breathable. The design makes it lightweight, with a vicious outsole giving it a 90° heel.
This is the kind of boot I'd recommend to any deer hunter. It will give your legs the comfort you deserve all day long.
Maven C1 10X42mm ED Binoculars
While hunting, you need to see your target from far. You can't sit and wait for a deer the whole day. For this, you need a powerful binocular. I suggest you try Maven C1 10x42mm ED Binoculars.
It is lightweight and will give bright and high-contrast images. This binocular is a durable, waterproof, and scratch-resistant lens.
With this, you will spot your target deer from far than you'd do with naked eyes. If your man is a hunter, this is one of the best deer hunting gifts for him.
ALPS OutdoorZ Dark Timber Hunting Day Pack
When hunting, you need to carry all your tools comfortably and conveniently. ALPS OutdoorZ Timber Hunting Day Pack is the best option.
With a large main and accessory pocket, your essentials will stay organized and accessible. Also, it comes with side mesh pockets, a lower storage pocket, and a hydration port and pocket. It has a large capacity and is made of polyester material hence durable.
It makes it easier and comfortable to carry heavy loads. This is because it comes with side compression straps that pull in its weight.
Also, the shoulder straps and waist belt are adjustable and padded. It comes with adjustable sternum straps for extra comfort.
Athlon Optics Riflescopes
It would help if you had the highest level of precision when hunting. Otherwise, you will always go home with near-miss songs. For this, you will need riflescopes.
I recommend you use Athlon Optics Ares UHD 4.5-3.0×56 First Focal Plane Riflescopes. It comes with six illumination settings, 25-yard infinity parallax adjustment, and elevation adjustment.
A specially designed reticle will shrink and grow along with the target when you zoom in and out. You will enjoy a zero stop system precision; hence, you can lock down the zero position and dial back precisely.
With this, you will be nothing less of the sharpshooter you see in movies. With a multicoated lens, it eliminates reflected light as well and amplifies light transmission. This enhances bright images.
Stanley The Unbreakable Trigger
This mug is made using the thickest stainless steel you can find in the market. Due to this, you won't fear breakage as you go into the forest for deer hunting. It's well-insulated hence preventing heat loss. The lid is so easy and safe to clean.
This mug comes with double-wall vacuum insulation made of four layers. Ideal for one-handing as it is equipped with a trigger action.
Also, it comes with a grit guard, which is essential in keeping out the grim. If you are looking for deer hunter-gag gifts, here you found one.
Hunter Safety System Reflective Treestand Lifeline
For sure, everyone would like to feel safe when climbing up and down a tree. For hunters, you need a way to comfortably do this without even making noise as it will scare away deer.
Hunter Safety System Reflective Treestand Lifeline is engineered to help you hunt at minimal risks. It will keep you safely connected to the stand from the ground and back.
Especially relevant, it comes with a reflective material that will enable you exactly where it is. Due to this, you will hunt safely, even at night.
Its design allows it to fit nearly all stand sizes. Each lifeline comes with its own Recon Carabiner. To eliminate rattles and clangs, it comes with cowbell sound dampeners.
Wildgame Innovations Shadow Micro Cam 16 Megapixel Infrared Trubark Camo Trail Camera
If you are an enthusiast deer hunter, you may need to film your activities to show your family during family dinner.
Choosing the right camera is a challenge for many. This camera is one of the most ranked deer hunter gifts ideas.
Wildgame Innovations Shadow Micro Cam 16 Megapixel Infrared Trubark Camo Trail Camera will give you the best quality videos and images.
It operates on 4 AA batteries, which are locally available and can take up to 32GB SD card. Also, it has a motion-triggered camera, night vision capabilities, and an invisible flash for camouflage.
It has an easy-to-use design with a HUNTSTAND APP integration capability for sorting and organizing pictures and videos.
Most noteworthy, it will synchronize your images with geolocation and weather to develop a behavioral profile. This will help you know where and when to expect deer.
Under Armour Men's Field Ops Pants
If you are looking for deer hunter gifts for him, this pant is a perfect idea. It repels water without compromising breathability. The material used is highly durable and lightweight nylon that provides maximum protection.
Reinforced overlays offer extra protection to the knee and seat areas. It comes with a technology that suppresses the growth of microbes that cause odor.
Their design reduces fabric rustling to the maximum. This will help you stay silent as you wait for your target. Great deer hunters will tell you what a rustling fabric would cost you.
To ensure your comfort and conceal, you need the Summit Treestands 81120 Viper SD Climbing Treestand, Mossy Oak.
They have a foam-padded seat design so that you can lower for gun hunting and raise when bowhunting. This is ideal for deer hunting.
It comes with a full perimeter flame that makes it easy for stand-up and sit-down configurations. Also, there is a front bar useful for easy climbing and serves as a gun rest.
Viper SD is highly portable, giving you safety and comfort everywhere. This is one of the best gifts for deer hunters.
It is of high quality hence durable. Viper SD is engineered for easy use and is made to reduce unintentional noises.
This is a quick, quiet, and easy-to-use climbing stick that will nest together, mounting directly on the Alpha Hang On treestand or the Assault treestand. It comes with reversible steps for extra convenience.
Its design matches the natural tree contour due to the adjustable pivoting V-brackets. With the provision of strap extension, Lone Wolf Climbing Stick fits trees of a diameter ranging from 4″ to 22."
If you need deer hunting gifts for dad, grab this one and help him climb safely, and I'm sure he will feel great.
Wrangler Riggs Workwear Men's Ranger Pant
This pant is designed with comfort and function in mind giving it a relaxed fit. It will sit comfortably on your waist and leave more room to fit over your boots. Also, it comes with deep front pockets for enhanced comfort.
It features high-quality materials; 100%cotton Ripstop fabric ensures durability and protection when at work. The knee, back pockets, and seams are reinforced hence enhancing durability.
It is most noteworthy, and it comes with extra storage; 1 watch pocket, 1 hammer loop, 2 deep front pockets, 1 reinforced leather tape measure clip, 2 back pockets, and 2 cargo side pockets. This is a self-contained deer hunting pant that no hunter should miss.
Conclusion
To conclude, when buying gifts, it is good to choose quality over money. You want something durable that your loved one will live to see. Something that they will pass from one generation to another.
The above deer hunting gifts are the best that I could think of. They are all durable, easy to use, and pocket-friendly. From protective gear to carriages and those that aid in hunting, such as scopes, they will all leave a smile on their faces.
Remember, hunting tools are not any other tools, buy these tested and qualified tools for the best memorable gifts. Hunting made easy!